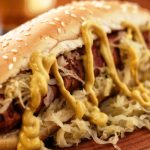 Old-Fashioned Kosher Hot Dogs
Grilled Kosher hot dogs are a staple in Jewish cuisine. Nothing fancy to look at but the pleasure is in the taste. Add some mustard and sauerkraut and you've got yourself a slice of heaven on a plate.
8

Kosher hot dogs

allow 2 per person

8

Hot dog buns

mustard

to taste

1-2

cups

sauerkraut

to taste
Preheat grill or grill pan on medium heat. Put the buns on a large platter, or they can be grilled. Watch, do not let the buns burn. Put the hot dogs on the grill and let cook for 3-5 minutes. Watch them carefully so they don't burn. You will have to judge as there really is no set time as to when they will be ready. Turn them as they start to brown, and them turn until they are brown on all sides.

While they are cooking, warm the sauerkraut on medium heat in a small saucepan. At this point you can grill the buns, if you so desire.

Remove hot dogs and place in buns. Serve with mustard, sauerkraut, relish, and any other condiments you like.