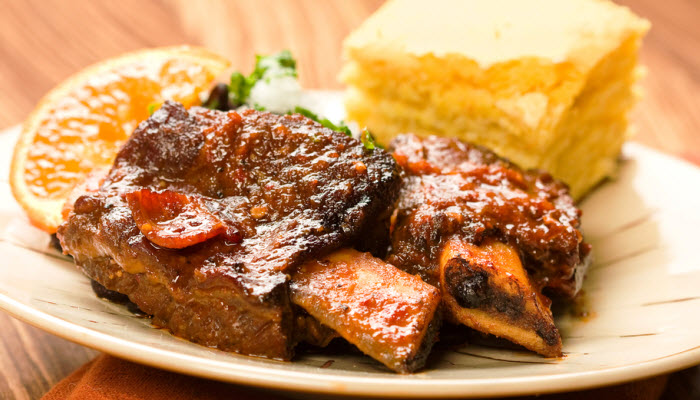 Braised short ribs are tender, savory, hearty, and the meat just falls off the bone. A perfect Shabbat or holiday meal.
The Backstory: Braised short ribs sound much more complicated to cook than they really are and truth be told, I usually have this kind of beef preparation in restaurants (but not for this reason). I am a beef eater but the rest of my family–not so much. So making braised short ribs at home was not exactly a winning proposition as I'd be the only one eating it. My beef recipes tended to pile up in an envelope with me always promising myself that I would definitely (right) make this or that dish at a later date. More of the Backstory after the recipe…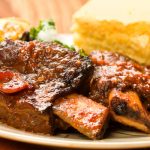 Short Ribs
This delicious preparation creates the most succulent end result with meat truly falling off the bone into the most wonderful and savory pan juices. Serve with mashed potatoes, rice or polenta to absorb the delicious gravy.
Total Time
2
hours
15
minutes
Ingredients
2-3

lbs.

Kosher short ribs

4+

tbsp.

all-purpose flour

1-2

tbsp.

oil

1

tsp.

Kosher salt

1/2

tsp.

pepper

1

bay leaf

1

clove garlic chopped

1

sweet onion cut in rings

1

cup

beef stock

1

cup

water
Instructions
Mix salt, pepper and flour together and mix well. Pat the meat dry and coat with the flour mixture. Set aside. Heat oil in a large Dutch oven. Add the onions and garlic and saute. Remove and set aside.

In the same pot, brown the meat on all sides. When completely brown add the onions and garlic back to the pot. Add the water, beef stock and the bay leaf. Cover and cook on a medium to low heat for 2 1/2 - 3 hours. Check often. If more liquid is needed you can add more stock or water.

Remove from heat and transfer the meat to a serving platter and let rest for about 10 minutes. Remove the bay leaf and discard. Skim off the fat from the pan. Serve the gravy on the side.
…The Backstory continues: Well, one day I am going to make these before this year ends! Or will that be another broken resolution?  In any case, thinking about delicious braised short ribs, with the meat falling off the bones (all that low and slow cooking, with delicious broth doing its job to soften the meat….) and the delicious crust on the outside, makes me also envision the rice or potatoes that I would make to accompany the beef, to soak up all the savory pan juices. Now I know I have to make this dish. And I hope you will too.
Please follow and like us: