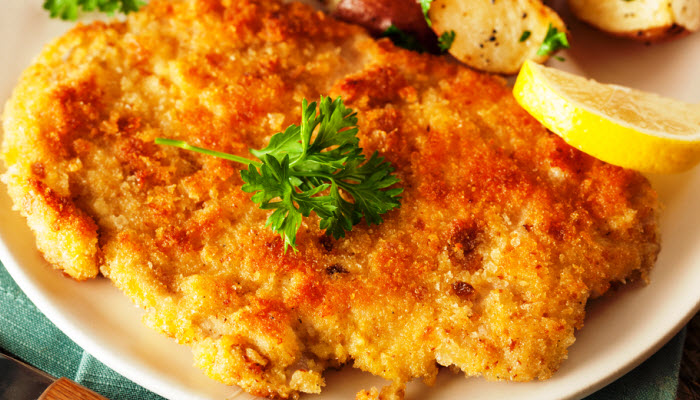 Breaded veal chops are lightly fried, tender, and full of flavor. This is the perfect winter, weeknight dish.
The Backstory: I just love veal in any form, whether it is cutlet style or  breaded  chops I know that there will be goodness on a plate for dinner tonight. If you've read any of my recipes or stories, you know by now that anything fried is okay with me.  Granted, it's not something that you would eat every day, but once in a while…I think you know where I'm going with this.  Let's face it: Jewish food is not exactly known for its low fat content. We are known for plenty of fried foods, people! More of the Backstory after the recipe…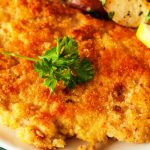 Breaded Veal Chops
Golden brown and crispy, this is eye catching. Besides looking good it is also a tasty meal. The mild seasonings just adds to the flavor.
Ingredients
2

lbs.

Kosher Veal Chops

1/2+ inch in thickness

1-2

cups

unseasoned bread crumbs

can use matzo meal, not panko

2

eggs beaten with 1 tbsp. water

1/4+

cup

oil

1

tsp.

Kosher salt

1/2

tsp.

black pepper

1/2

tsp.

paprika

1/2

tsp.

garlic powder
Instructions
Put the beaten eggs into a deep dish. Set aside. In a large flat dish add the seasonings and the bread crumbs. Set aside. Pat the veal dry and dip into the egg mixture. Let the egg mixture drip off the excess. Put on flat dish and coat the veal on both sides. Put that on a large plate.

Repeat these steps for the remaining veal. Let this rest for about 20 minutes so the crumbs will stick better to the meat. You can also refrigerate this now and fry when ready to use.

Using a large skillet heat the oil on low to medium heat. When oil is hot place the chops in pan and fry for about 4 minutes on each side. Remove and let rest. If you are making more than the recipe calls for, place the chops in a preheated 225 degree oven, to keep warm.

Serve with potatoes, rice, pasta and/or a salad or green vegetable.
…The Backstory continues: My mother used to make these wonderful chops when I was a child. Usually it was served to our family with spaghetti and canned tomato sauce.  Nowadays, chops like these are paired with potatoes, a salad, and perhaps a green vegetable.  In German cuisine, these are traditional Wiener Schnitzel.  If I was making a traditional German meal I would most likely add red cabbage to the menu.
This recipe is my mom's original recipe.  However you prepare this dish, try making it your own with different spices or even with panko bread crumbs or something that your family enjoys. I love changing things up but every now and then, I admit that I enjoy going back making a traditional recipe from my youth. It helps to keep my ancestors and memories alive.
Please follow and like us: