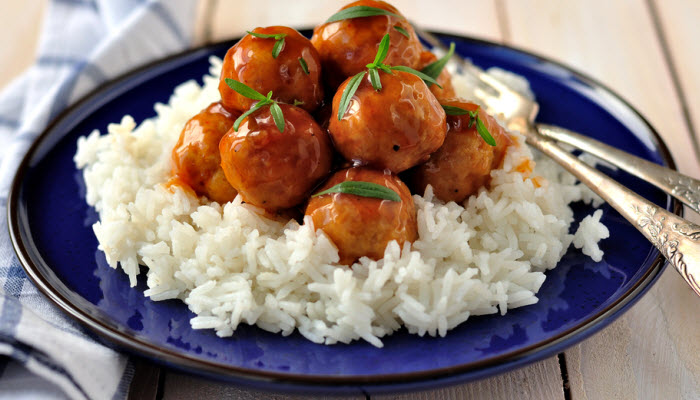 Grandma's Sweet & Sour Meatballs
The Backstory: This recipe is by far, one of the most special of all the recipes in The Jewish Kitchen. There are so many reasons for this.  For one, it has been a family staple for as far back as I can remember. No matter the holiday or special occasion, my mother (and before her, my grandmother) was always the one to "make the meatballs" to mark the event. More of the Backstory after the recipe…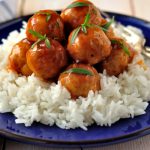 Grandma's Sweet & Sour Meatballs
These sweet and tangy meatballs are my family's favorite fall and winter meal. They are rich, savory and melt-in-your-mouth delicious. Serve over a bed of rice or wide egg noodles for the ultimate in Jewish comfort food.
Total Time
2
hours
20
minutes
Ingredients
For the Sauce
1

small

onion (or 1/2 large onion)

diced

1

10 3/4 oz. can

condensed tomato soup

1

14 oz. can

jellied cranberry sauce

1 /2

lemon, cut into 2 quarters

used during the last 30 minutes of cooking
For the Meatballs
1

lb.

Kosher lean ground beef

90% or leaner

1

lb.

Kosher ground beef

80% or 85% lean

1

large

egg

beaten

4

slices

white bread

crusts removed, processed into crumbs

1/4

cup

dried bread crumbs, seasoned

plain

2

tsp.

kosher salt

1/2

tsp.

freshly ground black pepper

1/2

cup

hot water (not boiling)

2

tbsp.

fresh parsley (optional)

if you are not using seasoned dried bread crumbs
Instructions
For the Sauce
Saute onion in large stock pot without any oil over low to medium heat until onion is translucent but not brown, about five minutes.
Add soup and cranberry sauce and stir together. Cook over low heat until soup and cranberry sauce melt and combine, about another five to 10 minutes stirring occasionally.

While sauce is cooking, prepare the meatballs.
For the Meatballs
Place meat, eggs, dried breadcrumbs, fresh breadcrumbs, salt, pepper, and parsley in large bowl. With hands, gently combine. Add warm water and combine once more. Do not over mix or meat will be tough. Before you roll the meatball, stir the sauce on the stove to make sure it is well combined. Stir often.

Form 14-16 meatballs and place gently into sauce. You can layer them if you need to. Spoon a little sauce over the bottom layer of meatballs before you place additional meatballs on a top layer. Add more sauce to the top layer.

Cover the pot and cook for 90 minutes-2 hours on low to medium heat, stirring every 30 minutes. During the last 30 minutes of cooking, squeeze a little of the lemon into the pot and then place the lemon quarters into the pot alongside the meatballs. Stir and cover. This allows the lemon to add a little acidity to the sauce and gives it a slight sweet and sour flavor. Remove the lemons before serving.

Serve with wide egg noodles, rice, or any pasta of your choice. The meatballs are also delicious as a sandwich on fresh Challah.
Recipe Notes
For a main course, I like to serve this family style in a large serving bowl, with either buttered egg noodles, rile pilaf, or spinach mashed potatoes as an side with a salad and fresh vegetable.
As an appetizer, this recipe is always a hit. This recipe makes 30 appetizer size meatballs. Simply roll smaller size meatballs and reduce cooking time to 60 minutes, stirring every 15 minutes to ensure that all of the meatballs are cooked thoroughly and evenly. Serve on toothpicks with cocktail napkins or skewer two small meatballs (like a kebab) and serve on trays.
…The Backstory continues: Second, whenever any of my girlfriends was ready to pull out the stops and show her new boyfriend exactly what they could possibly be getting if they stepped up and (and pre-Beyonce, but you know we're I'm going…coughed up a ring), they'd whip up a batch of these babies. One bite of these gorgeous, savory meatballs, and, well, you do the math. My husband was among those lucky victims.
But probably what makes this recipe the most special for me is that it was one of the first things I ever cooked on my own when I was in my twenties and learning to cook for friends and family. I called my grandmother and asked her for the recipe and to teach me (by phone) how to make a batch. This seemed like a very simple request until she started to rattle off directions like "throw in an onion" and "don't be shy with the salt" and then it hit me: she didn't measure or write anything down. Getting her to tell me exactly how to make meatballs was like having someone tell me by speakerphone how to take out someone's appendix while they were on the 18th hole at Pebble Beach and I was in the operating room, having never gone to medical school.
Like a lot of amazing cooks of her generation, she cooked by feel and smell and memory, and the two of us laughed like crazy on the phone, me in my tiny Boston apartment, and my grandmother in her Seinfeldesque Del Boca Vista (Phase III) condo. Between fits of laughter and tears, I begged and pleaded for her to try to guess how much of this and how much of that I needed so my meatballs would taste just like hers.  After this exercise failed miserably, (but we both agreed that the conversation would make for a great Mel Brooks movie), I made a few calls to my mother and my Aunt Sandy, and I was able to recreate the recipe.
My beautiful grandmother Gert has been gone for over ten years now, but I think of her and that hilarious phone call each and every time I make this dish.  That 1987 phone call could have easily been a modern day version of Who's on First?
Note to Mr. Brooks: Should Jewish geography ever land you on this page somehow, I imagine you could see this scene play out in your own brilliant mind as if you had been there yourself. Picture an elderly Bette Midler (if you could even imagine such a thing) talking to a Jewish Sanrdra Bullock type (another stretch) and you've got your movie.
Please follow and like us: