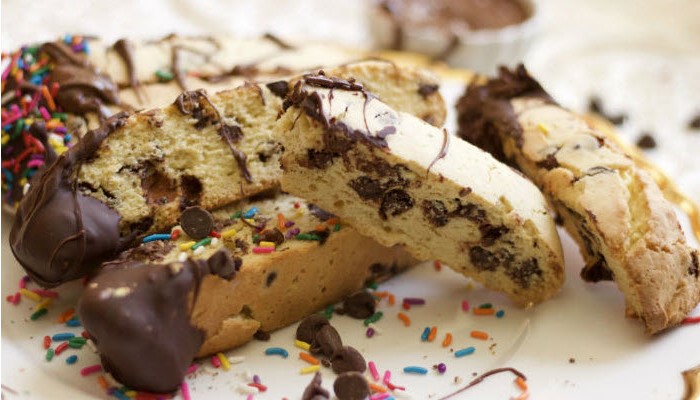 Aunt Sandy's Chocolate Chip Mandel Bread
My Aunt Sandy's chocolate chip mandel bread is a true classic. This delicious biscotti-like cookie combines the very best of traditional Jewish baking with everyone's favorite cookie for a no-fail dessert that's perfect with coffee, tea, or my favorite–dipped in chocolate just for the kids.
The Backstory: Mandel Bread, a classic Eastern European cookie with German origins, (also known by its Yiddish name Mandelbrodt) is often referred to as Jewish biscotti because of its distinctive biscotti-like shape and crunchy exterior. The crunchy part comes from being twice-baked: the cookies are formed into loaves and removed from the oven toward the end of the baking process, sliced into strips (those biscotti-like shapes) and go back into the oven again to lock in that extra crispy goodness. More of the Backstory after the recipe…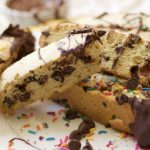 Aunt Sandy's Mandel Bread
Traditional biscotti-shaped cookies that are crisp on the outside and soft on the inside. These can be made with chocolate chunks, nuts, or dried fruit, and are perfect for dunking in coffee, milk, or as a decorative touch to an already decadent mousse or ice-cream dessert.
Ingredients
3/4

cup

sugar

3/4

cup

butter

unsalted, at room temperature

1

tsp.

pure vanilla extract

4

large eggs

at room temperature

4

cups

all-purpose flour

1

tsp.

baking powder

1/2

tsp.

Kosher salt

1

tsp.

fresh lemon juice

1 1/2

cups

chocolate chips - any kind you like

I combine 3/4 cup semi-sweet and 3/4 cup milk chocolate

Confectioner's sugar for dusting
Instructions
Preheat oven to 350 degrees.

Mix sugar and butter in the bowl of an electric mixer. Slowly add eggs, one at a time until each egg is well incorporated. Add vanilla extract.

In a large bowl, combine flour, baking powder and salt. Slowly combine flour mixture, one cup at a time, mixing slowly. Add lemon juice.

Add chocolate chips. Do not over mix batter.

Grease large cookie sheet or line sheet with silicone mat and form two to three loaves (depending upon how large you like your cookies), leaving a few inches between each (you might want to use two cookie sheets if you need more room).

Bake for 30 minutes.

Remove cookie sheet and let cool on baking rack for 5 minutes. Slice cookies into 1 inch slices and turn each cookie on its side. Bake for another 10 minutes.

Remove from oven and cool on baking rack. Sprinkle with confectioner's sugar before serving.

Note: To make these extra special, you can also dip them in melted chocolate and sprinkles: microwave 1 cup of chocolate chips until smooth and then dip one end of each cookie into the melted chocolate and then into sprinkles if desired. Place on cookie sheet lined with wax paper and cool in the fridge for at least 30 minutes to set before serving.
Recipe Notes
Arrange on a nice platter, cake stand or plate. I like to plate these with some large strawberries or other brightly-colored fruit to make the platter really come together nicely. Another fun thing to do is to stick a cookie into the top scoop of an ice cream sundae or pudding dessert for a decorative touch...it's always a fun surprise when it arrives on the table.
…The Backstory continues: Like biscotti, Mandel Bread is often made with almonds (in fact, Mandelbrodt literally translates into English as "almond bread") although my favorite recipe doesn't have a single almond in it. Mandel Bread is also softer on the inside than biscotti due to its higher butter content (well, we are Jews after all, LOL).
There are many different ways to jazz up Mandel Bread from mixing in dried fruits, or nuts, or scoopfuls of chocolate chips. Here I offer you my Aunt Sandy's melt-in-your-mouth recipe as I think she has mastered it beautifully. My kids and husband can never get enough of these. Luckily, they've got me…a baker's daughter, who's always looking for any excuse to whip out a cookie sheet and my KitchenAid. Maybe it's procrastination disguised as productivity, (denial is a beautiful thing!) but point me toward my mixer and I swear, my to-do lists fade away!)
Please follow and like us: