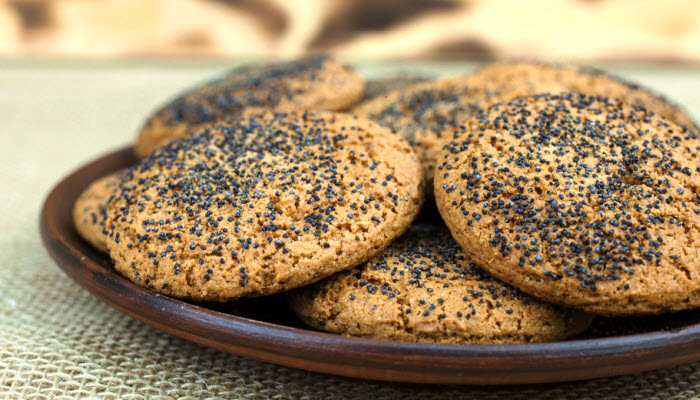 Grandma's Poppyseed Cookies
---
Grandma's poppyseed cookies are thin, crisp, and buttery, and melt right in your mouth!
The Backstory: To say that my husband loves his Grandma's poppyseed cookies would be an understatement. He loves them and he loves them deeply. He can get misty just talking about them because they were made for them by his late grandmother, Florence Levy. How my husband adored his grandmother. He was the first-born grandchild (don't ask), and he has her trademark thick, lush black curly hair (the kind that will never thin, frizz, or resemble anything except the loose curls every woman I know who covets a curl, wishes she had). What a waste! More of the Backstory after the recipe…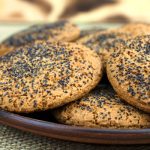 Grandma's Poppyseed Cookies
These crisp, slightly sweet cookies are crunchy, buttery and just plain addictive. They're absolutely perfect with a steaming cup of coffee or tea.
Total Time
1
hour
35
minutes
Ingredients
2

tbsp.

poppyseeds

2

cups

flour

2

tsp.

baking powder

1/2

cup

sugar

pinch of salt

1

egg, beaten

1/2

tsp.

vanilla

1/2

cup

oil

1/2

grated and juiced orange (or one lemon)
Instructions
Sift first five ingredients into bowl. Mix liquids into a well of dry ingredients, and refrigerate for one hour. HINT: Add a second egg if the dough isn't holding together.

Roll onto a floured board to about 1/4" thickness. Cut with a glass, to make circles. Place on cookie sheet, that was greased and sprinkled with flour. Bake in 350 degree oven for 15-20 minutes. Cool on rack for 10-15 minutes.
…The Backstory continues: From what I understand from my mother-in-law, Phyllis (Florence's daughter) and my husband Rob, Florence was one of the most significant, supportive and special people in Rob's life. Our daughter Julia is named for her and our son Aidan, too, has that same massive head of amazing hair.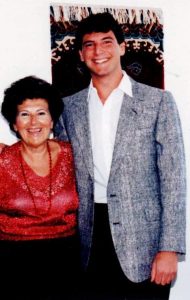 Florence died in 1996. My husband was 31 years old. How blessed he was to have so many meaningful years with her. Rob and I did not meet until we were in our 40s (late bloomers, us two) and we are a blended family. Our mothers grew up a few blocks away from each other in Brooklyn and literally went from kindergarten through high school together without meeting. Our fathers were in the army together. Despite all this, our parents did not meet until we got together. With all of these coincidences to mull over, one of the first family conversations Rob and I had was about Florence and how much he missed and loved her.
When Florence and her husband Marcus eventually left New York and made the Jewish migration to Florida (LOL), where did she move? A stone's throw from my Aunt Sandy (my mother's sister), where she lived for many years. Of course. Jewish geography at its finest, my friends. Somehow Rob, his grandmother, my mother-in-law, and possibly these cookies have been working their way to me all my life.
So let's circle back the recipe, shall we? When is a poppyseed cookie so much more than a cookie? When you've just read all of this.
Please follow and like us: