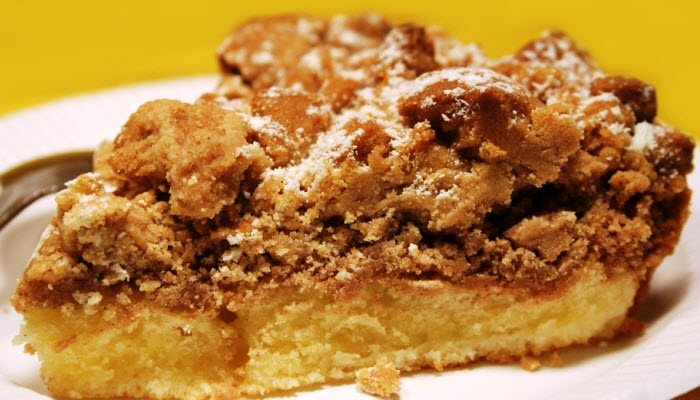 This moist Passover crumb cake cake has hints of ginger that make it so good, it'll become your go-to crumb cake, even when you're not cooking for Pesach.
The Backstory: This recipe, like so many others on The Jewish Kitchen, is a gift from someone I've never met (twice removed). It comes to me and all of you from my husband's late grandmother, Florence Levy, who got it from her friend, Barbara Rosman. Can you follow? This is Jewish geography, and then some, and the best part of it is that as I input the recipe from a page that Florence herself had typed, I could imagine her typing each ingredient, creating the structure of her recipe page (her recipes are so insanely organized), and then filing them away somewhere in her kitchen. Somehow I felt connected to my husband's grandmother; this very special person that he loved so very much, simply by transcribing a recipe. And now that the recipe is being shared with the world, who knows how far Mrs. Rosman's delicious Passover Crumb Cake will travel? More of the Backstory after the recipe…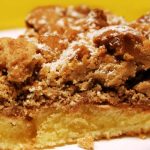 Passover Crumb Cake
This delicious cake gets a warm note from ginger and cinnamon and a sweet kick from applesauce and raisins. This is a moist, dense cake that 's perfect for Pesach and anytime you're craving an old-fashioned crumb cake.
Cook Time
1
hour
15
minutes
Total Time
2
hours
35
minutes
Ingredients
3/4

cup

melted butter

2 1/2

cups

matzo meal

6

tbsp.

sugar

1

tbsp.

cinnamon

2

15 oz. jars applesauce

3/4

cup

raisins

ginger
Instructions
Mix matzo meal, sugar and cinnamon. Blend in butter thoroughly.

Brown mixture in a pan in 350 degree oven for 15 minutes, stirring occasionally.

Press 3/4 of these crumbs firmly on bottom of 9" springform pan and up 1 1/2 inches on sides.

Mix applesauce and raisins. Pour into pan and spread evenly. Top with remaining crumbs and sprinkle with ginger.

Bake at 350 degrees for 1 hour. Cool at least 1 hour before removing the side of the pan.
…The Backstory continues: This recipe is different from most Passover cakes. First, there's the ginger. I've never seen ginger used in a Passover cake, let alone a crumb cake. Second is the applesauce (and raisin) layer. Mrs. Rosman knew how to make a moist cake. I'm impressed and very much looking forward to making this cake as a special dessert for my Seder guests.
Please follow and like us: