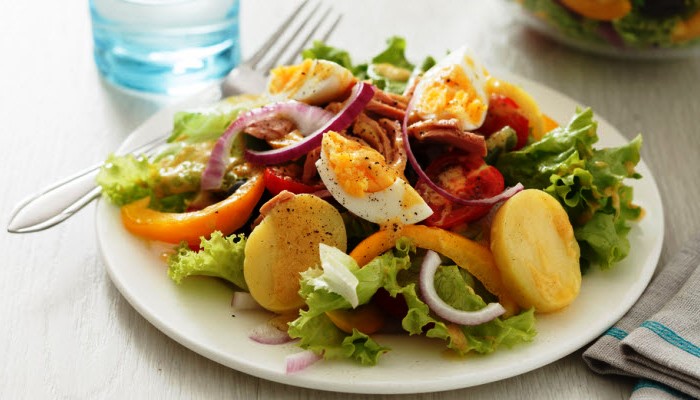 French influences turn ordinary tuna into Kosher Tuna Nicoise–an easy-to-make salad that's elegant, flavorful, and fancy enough for company.
The Backstory: Tuna can be used in so many different ways. It can be served as a dip with crackers, a casserole, or a good old standby, a tuna sandwich or a tuna melt. This particular recipe calls for either fresh cooked tuna or canned tuna. In the expensive restaurants it is usually made with fresh tuna. That is also reflected in the price. Tuna Nicoise has been popularized over the years to become a staple in many Jewish (and non-Jewish) delis and just about every diner and family restaurant in the country. It's practically a staple salad, right next to the Chef and Caesar salad. More of the Backstory after the recipe…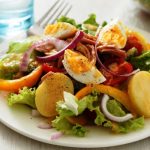 Salad Nicoise/Fancy Tuna Salad
With all that is going on in this salad, it is hard to pinpoint what stands out. The array of ingredients gives it a kaleidoscope of color. The different tastes of the veggies mixed with the dressing is the final touch to an enjoyable dish.
Ingredients
1/2

cup

mayonnaise

1

tbsp.

Dijon mustard, to taste

1

tbsp.

milk

1/2

lb.

small red potatoes

boiled and cut into slices

1

small red pepper, seeded and cut into thin strips

1/4+

cup

small cherry tomatoes, cut in half

1/4

cup

red onions, cut into rings

or diced

4

hard boiled eggs, cut ino quarters

4

anchovies, sliced

optional

1+

large bag of salad greens

your choice of greens

1+

cup

canned tuna in water, drained and flaked

or 8+ ounces fresh tuna cooked and cut into large chunks

1

cup

fresh string beans, cooked and drained
Instructions
Leave the bag of salad greens in the refrigerator until ready to serve. In a deep salad bowl, mix the mayonnaise, garlic, mustard, and milk together. Add the other ingredients except the salad greens and hard boiled egg quarters. Toss to coat with the mayonnaise mixture. Cover and put into the refrigerator, to chill.

When chilled, take out and set aside. On a large platter arrange the bag of salad greens. Distribute the salad mixture evenly over the greens. Arrange the hard boiled eggs around the salad and serve.
…The Backstory continues: This recipe is pretty close to the traditional one associated with French cuisine. Yet this tuna salad is just as American as apple pie. Which ever way you plan on preparing this dish, it will be a healthy, hearty meal. Just add some crusty bread and enjoy.
Please follow and like us: