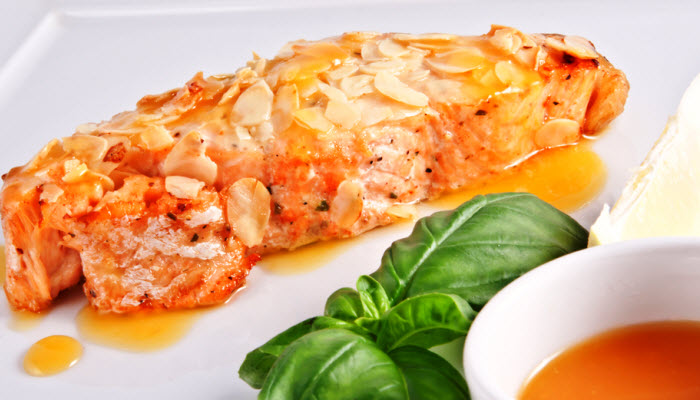 Citrus glazed salmon is tart, sweet, and crunchy with slivered almonds. This is our go-to salmon recipe for weeknight dinners or family get-togethers.
The Backstory: Can you not imagine the sweet and tangy deliciousness of this dish, just by looking at this picture of citrus glazed salmon? I'm ready to jump through my screen and start eating right now. This is a gorgeous and fantastic recipe that comes to The Jewish Kitchen from my fellow Sisterhood and Temple member, Amy Risman, who was kind enough to share this masterpiece with all of you (and me). It's only 10:17 AM as I write this, but I already know what my family is having for dinner this evening. Thank you, Amy! More of the Backstory after the recipe…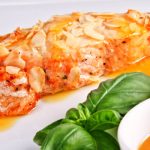 Citrus Glazed Salmon
Fresh salmon is baked in a sweet and tangy glaze of orange marmalade, Dijon mustard, white wine and seasonings and then is topped off with crunchy slivered almonds right after it comes out of the oven. Need we say more?
Ingredients
2

lbs.

fresh or frozen salmon fillets with skin removed

Kosher salt and ground pepper

3/4

cup

orange marmalade

2

green onions, sliced (1/4 cup)

1

clove garlic, minced

2

tsp.

dry white wine

1

tsp.

grated fresh ginger

1

tsp.

Dijon-style mustard

1/4

tsp.

cayenne pepper

1/8

tsp.

five spice powder

3

tbsp.

sliced almonds, toasted
Instructions
Thaw fish if frozen. Preheat oven to 450 degrees. Rinse fish and pat dry with paper towels. Season fish with salt and pepper. Place in a shallow baking pan; set aside.

In a small bowl, stir together marmalade, green onion, garlic, wine, mustard, cayenne pepper, and five spice powder. Spoon mixture over salmon.

Bake uncovered for 4-6 minutes per 1/2 inch thickness or until salmon flakes with a fork. Transfer fish and glaze to a serving dish and sprinkle with almonds.
…The Backstory continues: What I love most about this dish is that it has such a wonderful variety of flavors, from the sweet and tart notes of the marmalade to the slight heat of the cayenne and Dijon, and then the warmth of the five spice seasoning. I always love salmon in just about any form, but I really love it when it has a little something special going on. Those almonds that get tossed on at the end of the cooking and just latch onto that sweet and sticky glaze…
What time is dinner?
Please follow and like us: