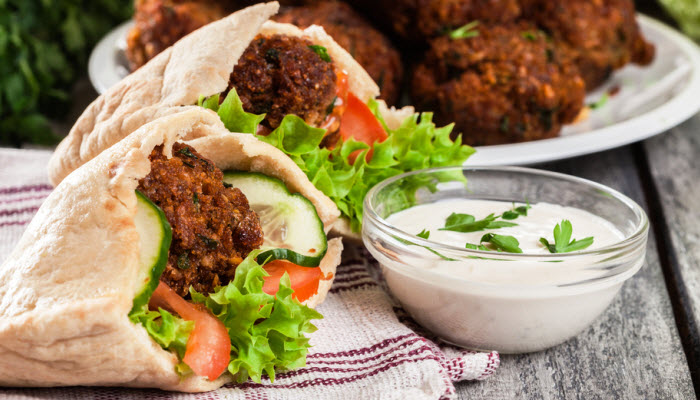 Crisp falafel balls are simply perfect in a pita sandwich or in a salad in this classic Middle Eastern dish.
The Backstory: Oh how I love falafel and my road to discovering this classic Israeli street food started in my childhood. My father's bagel bakery was located in Borough Park, an Orthodox section of Brooklyn, New York. Situated on 13th Avenue, the neighborhood's main shopping street, his store was nestled among the many other local businesses that made Borough Park such a culturally rich and robust center of daily Jewish life. I remember walking along the avenue past the butcher shop, fish monger, Kosher pizza parlor (delicious), stationery store, pharmacy, the many banks along the street, and past a little cart that sold falafel sandwiches stuffed into pita bread. I can still see those steaming golden rounds of crispy falafel and most of all, I can still smell the delicious aroma coming from that cart, some 25 years later. More of the Backstory after the recipe…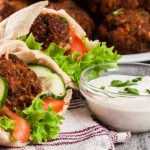 Falafel
Crispy and savory falafel balls are the perfect topper to a salad or a delicious filling for a warm pita. Top with tomato slices, red onion and a spoonful of tahini for a truly authentic taste.
Total Time
1
hour
30
minutes
Servings
16
falafel balls
Ingredients
1

cup

dried chickpeas or garbanzo beans

1

small onion, medium dice

1/4

cup

fresh parsley, chopped

2

garlic cloves

3

tbsp.

flour

1

tsp.

Kosher salt

2

tsp.

freshly squeezed lemon juice

1

tsp.

baking powder

1

tsp.

cumin

1

tsp.

ground coriander

1/4

tsp.

freshly ground black pepper

Vegetable oil for frying

Tahini for garnish (optional but recommended!)
Instructions
Put chickpeas in a large bowl and cover with cold water. Water should cover by about 2-3 inches. Soak beans overnight (do not skip this step) and then drain. Set aside. Note: you can use canned chickpeas, drained, if you prefer to not soak beans overnight.

Place the drained beans into a food processor. Add onions, parsley, salt, garlic, cumin, coriander, pepper, and lemon juice. Process until well combined but not completely pureed and mushy.

Add in flour and baking powder and pulse slowly until the dough forms a ball. Place falafel mixture into a bowl and cover with plastic wrap and refrigerate for one to two hours.

Remove chickpea mixture from refrigerator. Heat oil to 375 degrees in a deep skillet. Make balls with batter (approx 2 inches). Fry a few at a time--do not crowd the pan. It should take approx. 3 minutes per side or until golden. Drain on paper towels to absorb excess oil.

Serve in a pita with sliced tomato, lettuce and thinly sliced red onion and tahini.
Recipe Notes
NOTE: Test one falafel ball before frying all of them. If the falafel crumbles when you fry it, add a little extra flour to the mixture before frying the next falafel ball.
…The Backstory continues: Falafel is a traditional Middle Eastern street food that is enjoyed throughout the world. It is typically made of fava beans or chickpeas, which are soaked and then pureed with olive oil and seasonings, and then formed into balls and deep fried. The balls are then served with tahini (sesame paste) and vegetables  and put on a salad or in a pita bread, another traditional Middle Eastern and widely assimilated (and delicious) food.
Please follow and like us: