Kosher chicken tempura is crispy, savory, and absolutely delicious. This is a dish you can make at home with a few simple steps and our no-fail recipe.
The Backstory: Tempura is one of my go to dishes for something fast and delicious. It's amazing how as a young Jewish girl growing up in the 1940s and 1950s, I was never exposed to Japanese food. No one I knew even heard of sushi, let alone tempura. Of course we all ate Chinese food (what Jewish person didn't?) but even then, our repertoire was limited. Chicken Chow Mein, Egg Rolls, Chicken Chop Suey. These days, my nine-year-old grandson eats sushi every week and can tell you about every dish on the menu. Go figure. More of the Backstory after the recipe…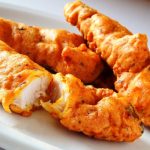 Easy Chicken Tempura
The crispy, light batter fries to a golden brown while the chicken stays moist and tasty. Serve with a tangy or sweet dipping sauce for a delicious first course or main meal.
Ingredients
1 1/2

lbs.

Kosher chicken tenders

1

large egg, slightly beaten

1

cup

all purpose flour sifted

1

cup

ice cold water

1/4

cup

cornstarch, sifted

1/2

tsp.

Kosher salt

1/2

tsp.

paprika

1/2

tsp.

freshly ground black pepper

3/4

cup

canola or vegetable oil

do not use olive oil

red pepper for garnish (optional)

duck sauce or soy sauce (optional)
Instructions
Pat the chicken dry and season with any seasonings you like, such as salt, pepper, and paprika. Set aside. Heat oil in heavy frying pan to 350 degrees. If not using a thermometer, drop a little batter into the oil. It will fall to the bottom of the pan but rise quickly to the top when it is ready to use.

Mix together egg, flour, cornstarch, salt and pepper in a large bowl. Gradually add in the ice cold water. Dip chicken in batter, letting the excess drip off. Fry each tender for about 5 minutes. Remove and drain on paper towels to absorb excess oil.

Serve with steamed Japanese rice and duck sauce, soy sauce or any other dipping sauce you desire.
…The Backstory continues: But back to the tempura.
This batter requires a short period of time to prepare and when I use use chicken tenders, I can have a delicious meal on the table in no time at all. Besides, it's fried. Enough said. This batter can also be used for fish and veggies.  You can add whatever seasoning you want   In this recipe, I use only salt and pepper but garlic and paprika will also enhance the flavor of the chicken.  Be creative and experiment with your favorite seasonings and dipping sauces, many of which you can buy at your local grocery store. This recipe works well with duck sauce, but soy sauce or a little sweet chili sauce would also be a wonderful accompaniment.
Please follow and like us: