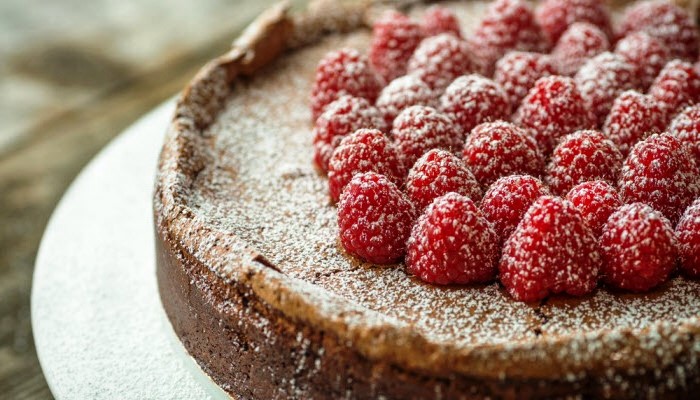 Flourless chocolate cake is our top pick chocolate dessert for anytime you want to wow a crowd with dense, chocolaty goodness. Need we say more?
The Backstory: I first made flourless chocolate cake when my husband and I were first dating and yes, I admit it, I was trying to impress him. Needless to say, it worked. Fast forward a few years later when I started to put this site together, I turned to all of my family members (of course) and asked them to share their favorite Jewish recipes with me, so that I could then share them with you. I had so many wonderful stories, recipes, and family tales (some very colorful, I might add) pour in, that I couldn't wait to start typing and fill up the pages of The Jewish Kitchen. In the back of my mind, however, all I kept thinking about was that flourless chocolate cake and how it had to be one of the first recipes in here.  More of the Backstory after the recipe…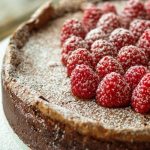 Chocolate Flourless Cake
Rich, decadent, and super moist, this flourless cake tastes like a combination of a brownie and fudge. You won't miss the flour one bit. Top with raspberries, confectioner's sugar and a dallop of homemade whipped cream for the ultimate chocolate (or Passover) dessert.
Ingredients
8

ounces semisweet chocolate chips

2

sticks

unsalted butter, at room temperature

1

cup

sugar

6

large eggs

1/2

cup

unsweetened cocoa powder

1

tsp.

Kosher salt

1 1/2

tsp.

pure vanilla extract

1/3

cup

Amaretto or other almond liquer (optional)

1

cup

fresh raspberries for garnish

Confectioner's sugar for dusting
Instructions
Preheat oven to 350 degrees.

Spray the bottom of a 9-inch springform pan with non-stick baking spray. Line the bottom of the pan with parchment paper and spray again.

In a medium saucepan over low heat, melt the butter and chocolate chips stirring continually until butter and chocolate are completely blended together. Remove from heat and set aside.

In the bowl of an electric mixer on medium speed, beat together the eggs and sugar until light and fluffy (about 4-5 minutes). Slowly add cocoa powder, salt, vanilla and Amaretto. Blend well.

Add the chocolate mixture and mix until just combined. Pour the batter into the springform pan. Bake for 50 minutes or until a toothpick inserted into the center of the cake comes out clean. Let cool on a wire rack for at least 45 minutes.

Remove the sides of the springform pan. Decorate with raspberries (or any fresh berry you prefer) and dust with Confectioner's sugar. Slice and serve.
…The Backstory continues: What I wasn't expecting, however, was that while I was entering in my own recipes, (including the flourless chocolate cake) how many times in between, I would turn to that cake. For Passover (no flour, it works), for special occasions (when there were requests for something gooey and chocolate), or when I needed to whip up something quickly (this cake comes together relatively fast) and I needed a real wow factor. In fact, if I had to nail down a single chocolate recipe on this site as the be-all, end-all, I'd have to give it to this one.
And so I give you to, this to-die-for flourless chocolate cake. It's pure perfection any time of year, and of course, perfect for serving at Passover. But don't wait until then to make it. This is one recipe that's made to be shared all year round. Your guests will love you for it.
Please follow and like us: