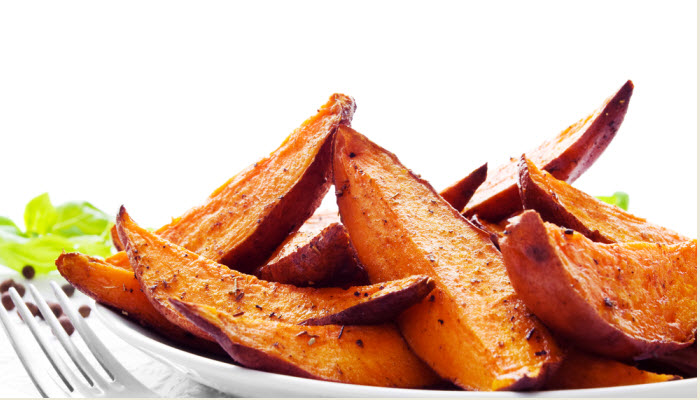 The Backstory:Whether you call it Sweet potatoes or Yams, potatoes of every shape, texture, and color have been around for eons.  Practically every culture has its own way of preparing them, from the most rustic recipes (boiled, baked, fried latkes, and mashed) to the most elegant gratins and scalloped recipes).   More of the Backstory after the recipe…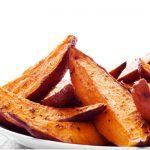 Sweet Potato Fries
Fork tender, yet a little crunchy around the edges, these potatoes will compliment any meal you serve.
Ingredients
8

medium- large sweet potatoes

peeled, cut into large wedges (fries shape)

2+

tbsp.

canola or vegetable oil

1/2

tsp.

Kosher salt

1/2

tsp.

paprika
Instructions
Preheat oven to 400 degrees. Brush 1/2 tbsp. oil onto a large baking sheet.

In a large bowl mix together the remaining oil and paprika. Add the potatoes and coat all over. Place potatoes on baking sheet. Bake for 20 minutes. Turn potatoes with a spatula and bake for another 20-25 minutes.

Remove from oven and sprinkle with Kosher salt. Serve immediately.
…The Backstory continues: With different spices and cooking techniques, potatoes have been typically used ( and they are economical) to suit the tastes of local cultures. In countries where farming is common and plentiful, potatoes can be served in one way or another at each meal, as a staple. In some cultures, potatoes rarely show up as a menu item, but may show up as an ingredient such as a thickening agent, like potato starch. It just goes to show you just how versatile the spud truly is. And it really doesn't matter how you cook a potato, with a little seasoning, potatoes are hardly ever refused by even the most picky eater. After all, you don't get too many turned up noses when you make homemade french fries or decadent mashed potatoes.
Bottom line: boiled, baked, or fried, these spuds will be around forever.
Please follow and like us: