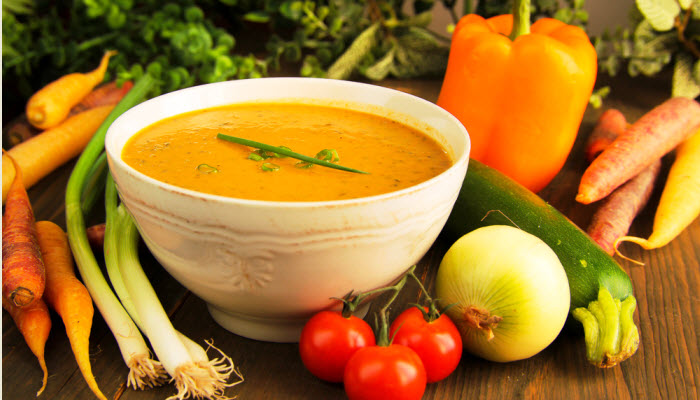 The Backstory: My family always loved soup.  It's just one of those comfort foods, like stew, meat loaf and roasted chicken that always warms the soul.  I admit, it took me a long time to learn how to prepare soup so that they always had rich flavors and the perfect amount of seasonings. Oh, sure, I knew how to make chicken soup, but anything else was not on my radar. More of the Backstory after the recipe…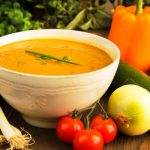 Vegetable Soup
This hearty soup is not only good for you with all its veggies, but very tasty with all the right seasonings. Serve it in a pretty soup bowl with a sprig of parsley.
Total Time
2
hours
15
minutes
Ingredients
1

6 ounce package Manischewitz Vegetable soup mix

hold the packet of seasoning apart.

1

12 ounce package yellow split peas

Use only 4-5 ounces of yellow split peas.

1

large sweet potato, peeled and cut in small chunks

2

large carrots, peeled and cut in small chunks

1

medium onion, cut into small chunks

1/2

tsp.

Kosher salt

1/4

tsp.

black pepper

5

sprigs fresh parsley

tie parsley and dill together with string

5

sprigs fresh dill

8+

cups water
Instructions
Put 4-5 ounces of yellow split peas in a bowl, rinse and then add water to cover. Set aside. In a large stock pot boil 8 cups of water.

In a blender, add a little water and some potatoes, onions and carrots. Blend and put into large bowl. You will have to do this in several batches. Set aside.

When water is boiled add the split peas and all the blended veggies. Add the Manischewitz soup mix (not the packet of seasoning). Add the salt and pepper. Stir often to keep the beans from sticking to bottom of the pot. Cover, and cook on low to medium heat for for 1 hour and 15 minutes.

Add the packet of seasonings. Stir and add the parsley and dill. Cook for another 15 minutes, stirring often.

Remove from heat and blend with a hand blender to get the texture you like. Serve with crusty bread for a first course or a crisp green salad for a delicious lunch.
…The Backstory continues: My mom was the one who gave me this basic recipe, and it's a beauty. My standby now is always a bag of Manischewitz soup mix as a base (works every time), with a little twist to the package directions and to mom's recipe, (sorry, Mom).  Add your own twist by changing up the herbs and the vegetables (or by adding in chunks of chicken or some rice or pasta) and you will able to own it too.
Please follow and like us: