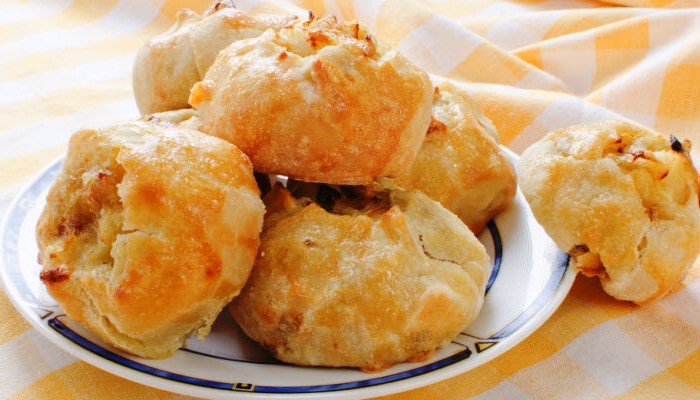 Golden pastry surrounds a savory filling in this classic potato knish recipe. Perfect for party apps, holidays, or family get-togethers!
The Backstory: Oh, how I love a classic potato knish. I'm sorry (in advance) to everyone who lives outside of NYC, and as a person who has lived in Boston, Chicago, San Francisco and New York, I think I'm wholly entitled to say this with some authority: I've never found a great (not good, but great) knish outside of the City. If you know of one, please let me know its whereabouts and I'll happily travel to it! More of the Backstory after the recipe…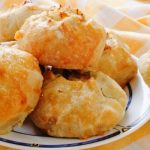 Classic Potato Knishes
Delicate, flaky pastry covers the most savory potato filling for these four-bite knishes. One will never be enough, so think about doubling the recipe as these will be the first to go at your next get together. Whichever variety you make--don't forget the deli mustard!
Ingredients
For the Dough
2

cups

all-purpose flour

1

tsp.

baking powder

1/2

cup

vegetable or canola oil, plus extra for brushing

pinch of Kosher salt

2

tbsp.

water

3

1 beaten egg for glaze, 2 eggs for dough
For the Beef Filling
1/2

lb.

Kosher lean ground beef

6

tbsp.

rendered chicken fat

(you can get this from your Kosher butcher)

2

cooked Kosher chicken, skin removed, cut into medium size chunks

1/2

tsp.

ground allspice

Kosher salt and freshly ground black pepper to taste

2

eggs, beaten
For the Sauerkraut Filling
2

cups

canned or packaged sauerkraut

1/4

cup

canola or vegetable oil

1

small onion, medium dice

1

tbsp.

brown sugar

freshly ground black pepper
For the Potato Filling
6

Yukon Gold potatoes, peeled and cut into large chunks

2

small onions, medium dice

1/4

cup

canola or vegetable oil

2

tsp.

sugar

2

tsp.

Kosher salt
Instructions
Prepare the Dough
Sift the flour, baking powder and salt onto a pastry board or marble slab. Make a well in the center of the flour mixture and add the eggs, water and oil. Mix these together with your fingertips, slowly bringing in the rest of the flour with your hands to form a dough. Do this gently until the dough is smooth. Wrap dough in plastic wrap and refrigerate for 15 minutes.
Preheat oven to 350 degrees. Remove dough from refrigerator and flour the board or marble. Roll out dough to 1/8" thick and brush with oil. Cut out 3-4 inch rounds with a pastry cutter or glass. Place a spoonful of filling (see filling recipes below) onto the center of each round and pinch the edges to make a ball.

Place each knish, pinched side down onto an ungreased baking sheet. Brush the tops and sides with the beaten egg. Bake for 30-35 degrees until golden brown. Serve hot with deli mustard and enjoy!!
Prepare the Beef Filling
In a medium frying pan on low-medium heat, melt the chicken fat and saute the onion until translucent and soft. Increase the heat to medium-high and add the ground beef and cook until the meat is well-browned and cook through. Add the allspice, and salt and pepper.

Allow the beef to cool. Stir in the beaten eggs and mix well. The beef is now ready to be used as a filing for the knishes.
Prepare the Sauerkraut Filling
Note: This filling takes a little longer--about 45 minutes to 1 hour to cook. Wash the sauerkraut and drain it very well. In a medium dutch oven, heat the oil, add the onion and saute until the onion is soft. Add the sauerkraut, sugar, and a little black pepper and stir together. Cover and cook over low heat, stirring occasionally for 45 minutes to 1 hour until the sauerkraut is extremely soft and golden. Add a little water if the sauerkraut sticks to the pan during the cooking process. Once the sauerkraut is finished, cool slightly and proceed to use as a filling for the knishes.
Prepare the Potato Filling
In a large pot, salt the water and bring potatoes to a boil. Let potatoes cook until they are tender, about 20 minutes. Drain well and set aside.

In a small saucepan, heat oil and fry onions, stirring often, until they are well browned but not caramelized. Set aside.

Mash potatoes with potato masher. Add onions, sugar and salt and mix until well combined. The mixture is now ready to be used to fill the knishes.
…The Backstory continues: A good knish goes something like this: it's light and flaky on the outside and doesn't have dough that's two inches thick to tunnel through with a jackhammer.  The dough is a light, melt-in-your-mouth affair that is not an afterthought, but as much a part of the knish equation as the delicious filling (spoken like a baker's daughter, I know, but this is more than the wrapping paper to the gift, and it matters). The filling, depending upon your preference is a whole other delectable story.
If you are a potato kind of girl (and I am) or guy: your potato filling is soft, not lumpy, and well-seasoned. This is critical! The filling, while soft, has a genuine density to it. It stands up to the deli mustard (that's D-E-L-I mustard, not yellow (God-forbid) mustard that you put on top of the knish or inside the knish with a knife and a slash (God, I love New York) or however the heck you get it in/on there. Please don't ask for ketchup. You won't get it any respectable deli or Jewish home. Oh, maybe you will because most people are hospitable, but trust me: they'll talk about you after you leave.
If you're a meat filling knisher, your beef filling is savory, tender and not dry like gravel. It does not crumble and feel like pebbles. Enough said.
And did you know that there are sauerkraut stuffed knishes? Oh yes, indeedee-do, there are. Those should taste just like the sauerkraut from any NYC pushcart vendor. OMG, dying over here, wondering why I'm here, not there. Probably a good thing, as my cholesterol would be through the roof in one meal, and I'm not even a meat eater.
But I digress.
And so, my knish-eating kindred spirits, I give you a divine recipe for knishes, with choices of fillings: beef, potato, and the aforementioned sauerkraut. Try to get through this recipe without slobbering all over yourself. I barely got through this intro.
Please follow and like us: