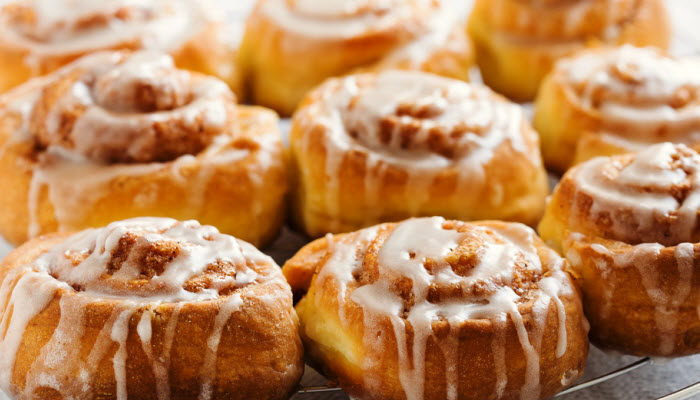 Iced, sticky, sweet, and delicious, these are the ultimate in brunch indulgence.
Backstory: There are few things in life that are better to wake up to than the smell of warm cinnamon rolls and if you've grown up around a bakery or worked in one like I have, you'll know exactly what I mean when I say that there's something crazy special that happens when fresh dough and cinnamon meet together in the oven. I simply don't have the words (yes, a first for me). More of the Backstory after the recipe…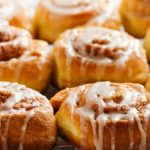 Cinnamon Rolls
Sweet and sticky cinnamon rolls with just the right amount of icing and gooey-ness are a delicious indulgence your family will love. They're perfect for brunch, holiday get togethers or any time you want to do something truly special for breakfast or brunch.
Total Time
2
hours
45
minutes
Ingredients
For the Dough
1

cup

sugar

1

tsp.

Kosher salt

3

packages

active dry yeast

8-9

cups

all-purpose flour

2

cups

milk

1

cup

butter or margarine

2

eggs
For the Cinnamon Filling
1/2

cup

light brown sugar, packed

1/2

cup

dark raisins

1

tsp.

ground cinnamon

1/4

cup

unsalted butter or margarine, melted

1/2

cup

chopped pecans
Sugar Glaze
2

cups

confectioner's sugar

1/2

tsp.

pure vanilla extract

3-4

tbsp.

water
Instructions
In the bowl of a standing mixer or large bowl, combine the sugar, yeast, salt, and 2 cups of flour. In a large saucepan over low heat, heat the milk and butter until warm (about 120-130 degrees). The butter may not melt but that is okay.

With the mixer on low speed, add the milk and butter mixture into the dry ingredients, beating slowly. Increase the speed to medium and beat for 2 minutes, scraping bowl with spatula occasionally.

Beat in eggs and 2 cups of flour. Continue to beat for 2 more minutes and scrape the bowl occasionally.

Use a spoon to add more flour (approximately 4+ cups) to make a soft dough. Flour the counter or board and turn the dough out. Knead for 10 minutes until the dough is smooth and elastic. Shape into a ball.

Place dough in a large greased bowl and turn over in bowl. Cover with a towel and let rise in a warm place for 1 hour or until dough is doubled. After 1 hour, punch down the dough. Turn out on a lightly floured surface and cut dough in half. Freeze half of the dough for another use. Half of this dough will yield 14-15 cinnamon rolls.

Grease a 13 x 9 baking pan. Set aside. In a small bowl, mix the brown sugar, raisins, pecans, and cinnamon. Set aside.

Roll the dough to 18" x 12" rectangle. Brush with the melted butter and sprinkle with the entire sugar mixture.

Starting with the 18" side, roll the dough, jelly roll style. Pinch the seam tightly to seal and place the roll seam side down. Cut 14 - 15 slices. Place each cinnamon roll on the pan next to each other and cover with a towel. Let the rolls rise for about 40 minutes or until doubled.

Preheat oven to 400 degrees. Bake for 25 minutes. While rolls are baking, prepare the sugar glaze: In a small bowl, combine the Confectioner's sugar, vanilla and water until smooth. When rolls are done, cool on wire rack for 10-15 minutes then spread on the sugar glaze. Do not glaze immediately or it will melt off of the rolls. Enjoy!
…The Backstory continues: I want to be clear that I'm not talking about those monster airport or mall type of cinnamon rolls. No thanks.
These are a little smaller and less cloying (sorry, but it's true.) They are full of sweet goodness from brown sugar, cinnamon and chopped pecans, but the flavors are not so overpowering that you feel you need to check your insulin levels after eating them. These are the real deal cinnamon rolls of your childhood, with a perfectly balanced sugar glaze that won't put you to sleep after a little indulgence. Yes, they'll make your fingers sticky (as they should after eating one — or two), but you'll still be able to eat another meal in the same day.
There's a difference between making a delicious baked good with balance and proportion versus dipping the entire thing in a bucket of icing. I prefer the former. Restraint, proportions and the ability to taste the spices and not be drowned out by frosting are keys to good baking. Or so said my dad, and his words were gospel to me when it came to all things relating to baked goods.
These are worth the effort and your family will love you for making them.
Please follow and like us: