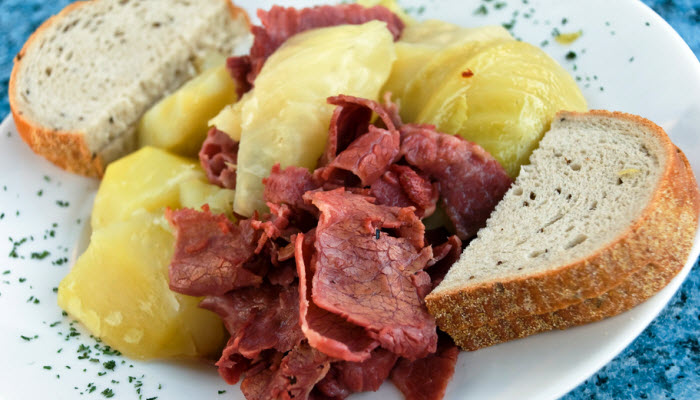 The Backstory: Above all else, I am a Jewish girl from Brooklyn.  Looking back at the time when I was a young girl, I remember my childhood quite vividly. It was a wonderful era, from the mid 1940's until the early 1960's.  My mom kept a kosher house. That is all I knew.  But when mom decided to not cook dinner, we would go to our favorite Jewish deli. They were not hard to find.  The problem was always which one to choose as they were all delicious places to eat. More of the Backstory after the recipe…
Corned Beef
The aroma of the spices in this recipe are so outstanding, that it almost unfair that you have to wait several hours before you can indulge. It is done to perfection when the corned beef is brown on the outside but rosy on the inside. It is so inviting...let's eat!
Total Time
3
hours
10
minutes
Ingredients
4-5

lbs.

Kosher Corned Beef

ask your butcher for the best meat to use.

1

medium whole garlic clove

2

medium onions, peeled and cut into quarters

2

whole cloves

6-8

whole black peppercorns

1

large bay leaf

1/4

tsp.

mustard seeds

1/4

tsp.

dried rosemary

1

large head of cabbage,cut into quarters.

optional
Instructions
Put beef into large stock pot, Add all the seasonings. Do not put the cabbage in the pot. Pour cold water into pot, to cover the meat. Bring to a boil. Skim off foam. Cover pot. Lower heat to a simmer.

If using the cabbage, after 3 1/2 half hours, add the cabbage. Simmer for 30 minutes more. This should be fork tender, if not let it simmer until it is fork tender. Use your judgement. Remove, and slice to your desired thickness. Corned Beef can be served cold or hot. Your choice. This is usually made into sandwiches. Rye bread, potato salad, coleslaw and pickles are excellent side dishes. Maybe French fries. Hmm.
…The Backstory continues: Sometimes we would drive to the Canarsie section of Brooklyn and there, the choice was simple: Grabstein's.  They offered a wide variety of fresh, down-to-earth, familiar, comfort foods.  It didn't matter what you ordered, it was always perfect. A side note: Grabstein's catered my engagement party, my son's bris, my parents' 35th surprise anniversary party, and a host of other special family events.  To this day, some of my favorite foods are corned beef and pastrami and 99% of the time, that's what I ordered at Grabstein's.  The other 1% is something I can't even recall.  It is not so much that I am a creature of habit, it's just that this is and will always be, my favorite type of food.
Here's how to make a good corned beef at home. I'm sorry Mr. Grabstein: I know it might not be as good as yours, but it's pretty darn good (if I may say so myself).
Please follow and like us: