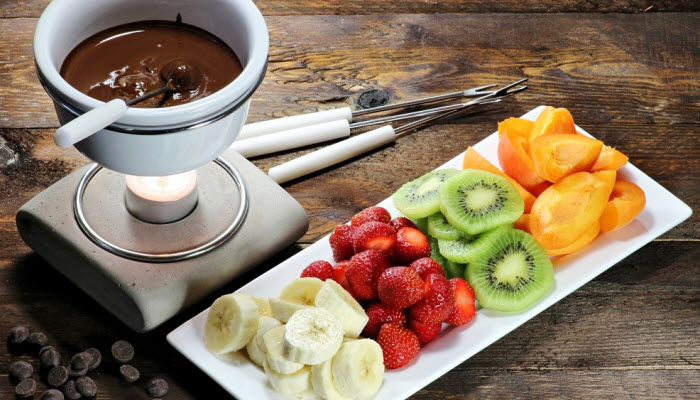 Chocolate fondue just screams romance, fun, or party time! It's easy to make and so much fun to eat. Dip fruit, pound cake, marshmallows, or even macaroons!
The Backstory: Chocolate fondue is one of the fanciest yet easiest desserts to prepare. This decadent treat is one that I have made for Valentine Day and I've also seen it at New Year's Eve parties as well as Bar and Bat Mitzvahs on the dessert table. Paired with a glass of champagne or sparkling wine, and you've got yourself one heck of a party. But it's also fun to just surprise your dinner guests with fondue just because (why not, right?) and watch them go crazy when you whip out a tray of fresh strawberries, marshmallows, pound cake, or even macaroons (delish). Let's face it, people–what can't be dipped in chocolate? I know you're thinking of things like cottage cheese and celery, but given enough time, I could probably find a reason to disagree. More of the Backstory after the recipe…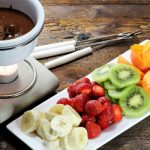 Chocolate Fondue
Warm and sweet smelling, chocolate fondue is a decadent, elegant comfort food. It's CHOCOLATE. Enough said!
Ingredients
1 1/4

cup

heavy cream or whole milk

12

ounces

semi sweet, good quality chocolate chips

or chocolate of your choice

1

tsp.

vanilla

2

tbsp.

margarine

or butter

fruit, marshmallows, cake cubes for dipping

your choice
Instructions
On medium heat in a medium size saucepan, heat milk and vanilla to a simmer. Remove pan from heat and add the chocolate chips and butter and stir until smooth and silky.

Pour chocolate mixture into fondue pot and turn on burner or heating element according to manufacturer's instructions. into a Fondue pot. Serve with marshmallows, fruit and whatever you choose. Use long fondue forks for dipping and enjoy!
…The Backstory continues: When you make a fondue, whether it's chocolate or cheese, you first make the fondue itself in a double-boiler and then transfer it to a fondue pot where it stays warms (depending upon your pot) with a candle or a burner ring, set directly under the pot. Be sure to read your fondue pot's manufacturer's specific instructions for usage and safety details.
And then get ready to indulge. You and your friends and family deserve this!
Please follow and like us: