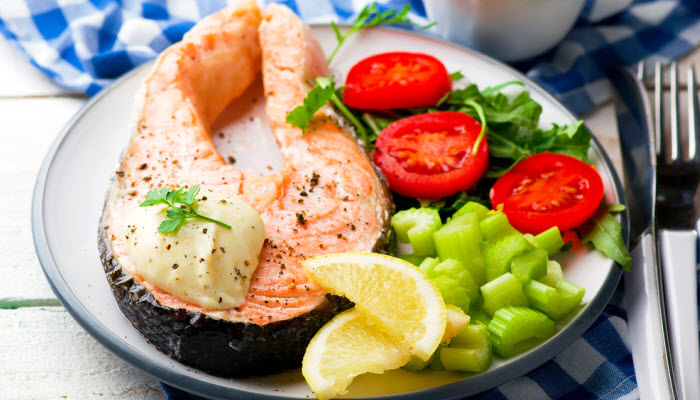 Microwave salmon is a quick and easy recipe that lets you prepare a proper meal in minutes without sacrificing flavor.
The Backstory: Believe it or not, microwave cooking can sometimes be as good as doing it the old-fashioned way. With some proper seasoning and perfect timing and heat settings, you can make some fast and tasty meals using this appliance. One of the most frequent dishes I make is microwave salmon. Salmon and different varieties of white fish cook well and easily this way. I can see the food snobs holding their noses, but it's true. Sometimes we all need to be a little adaptable. More of the Backstory after the recipe…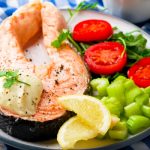 Microwave Salmon
The choice of seasonings determines the taste of your fish and precise cooking time will give you the softness you desire. Pair this with salad, mashed potatoes, and a chunk of bread, and you are set for a delightful meal.
Ingredients
6

ounces

salmon steak or filet, bones removed

you can also use any white fish you like

Kosher salt

to taste

black peper

to taste

dried parsley flakes

to taste, or other herb

lemon juice

to sprinkle

oil

to smear on the fish

water or white wine

to add to the bottom of the dish
Instructions
Pat the fish dry. If using a flat white fish, tuck the thin ends under the fish. This is done so the thickness of the fish is all the same. Whatever fish you are using place in a microwavable dish,

Drizzle some oil on the fish. Season with salt, pepper, parsley, and sprinkle some lemon juice on the fish. Add a little water or wine around the fish. Cover with plastic wrap.

Place in microwave and set timer for 2 minutes and 15 seconds. Remove and be careful lifting the wrap as steam will escape. Test fish to see that is done to your liking. If not put it back for only a few seconds as this method of cooking is very fast.
…The Backstory continues: Sure, the microwave is mostly used for reheating things now and then, but sometimes a girl is in a rush and needs to improvise. And that's where this recipe comes in. I can actually make a decent meal and have it on the table in 10 minutes or less. The fish takes less than three minutes and and when you add a fresh veggie, well, a little longer. Besides being fast, the fish is always soft and delicious. Who knew?
I'm certainly not suggesting you give you up your pots and pans and toss out your tasty tried and true salmon recipes such as our Citrus Glazed Salmon, but for those days that you're in a hurry and want something fresh and delicious, by all means, ignore the food snobs and go right ahead and use your microwave. You'll be glad that you did.
Please follow and like us: