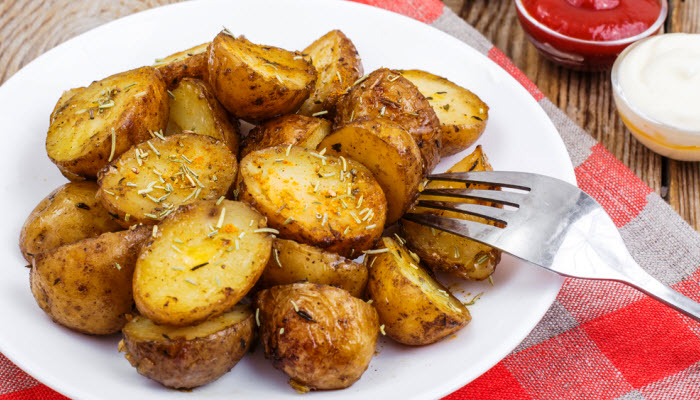 Grilled herbed potatoes are the best of both worlds: crispy outside and soft and tender inside. Savory herbs add zest and a smoky wow factor!
The Backstory: This recipe for grilled herbed potatoes is one of my all-time favorite ways to prepare them.  Yes it takes more time, but the end result is worth it. Living up north, this was a dish that I only prepared in warm months when I was regularly firing up the grill (everything tastes better on a grill!). And boy, how I looked forward to making and devouring this yummy spud. Whether I put the potatoes straight onto the grill or got all fancy and placed them on skewers, this was always a welcome side dish that my family and friends loved. The ingredients are so basic and the herbs can be changed out to your personal tastes. More of the Backstory after the recipe…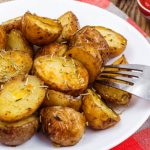 Grilled Potatoes with Herbs
Firm on the outside and soft on the inside, these tasty spuds have beautiful grill marks and taste heavenly from the seasonings. These are my go-to side for meat, fish, or poultry.
Ingredients
3

lbs.

medium potatoes

1/2

cup

canola or olive oil

1/2

cup

mixed fresh herbs

parsley, rosemary, and oregano

2

garlic cloves, smashed
Instructions
Note: if you will be grilling your potatoes on metal skewers, cut them into large chunks (for skewering later), or if you will be grilling them directly on the grill, cut into thick slices.

Boil potatoes in large pot of salted water for about 10 minutes. Meanwhile in a large baking dish, combine the oil, herbs, and the garlic. Set aside.

Drain potatoes and let them sit in the colander for a few minutes to allow the steam to release any excess moisture. Place the potatoes into the oil mixture and gently toss to coat evenly with the oil, garlic, and herbs.

Heat the grill. If using thick slices, carefully place the potatoes on the grill now. If skewering, carefully skewer a few pieces on each skewer (be careful--they will be slippery!) Let any excess oil drip back into the baking dish. Remember to turn the skewers every few minutes and to flip the potato slices after 3-5 minutes.Test a piece of the potato to make sure they are fully cooked. Serve hot.

Garnish with more herbs or a sprinkling of Kosher salt or Parmesan cheese, if desired.
…The Backstory continues: What makes grilling potatoes (or any vegetable, for that matter) so interesting is the resulting contrast in textures and flavors. Both direct and indirect grilling can add a smokiness that you can't quite get from roasting or frying, and when you combine that with fresh herbs, Kosher salt, and freshly cracker black pepper, something magical happens. I also happen to love the texture of grilled foods–the crispiness that comes from just the right amount of exposure to charcoals, flame, or even a grilling rack. I'm getting hungry just thinking about it. Can you tell?
Please follow and like us: