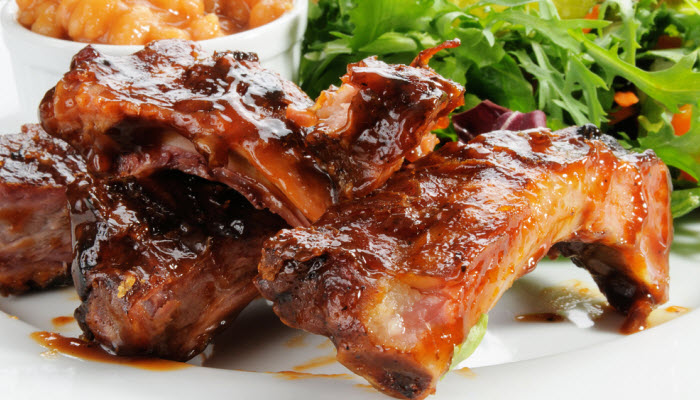 Kosher Baby Back Beef Ribs
Our Kosher baby back beef ribs are beyond delicious! They are sweet, tangy, and savory. Best of all, you can bake them in the oven in about 2 hours.
The Backstory: My husband, Rob, is a true ribs lover. He can eat them all year round and twice a day if you let him! Me, I'm not the world's biggest meat fan, but I am a sucker for his brisket (to die for) and these delicious, finger-licking Kosher baby beef back ribs. They are truly the perfect balance of tangy and sweet, and they are a five-napkin deal. Better yet–do what we do when I make them–tear off a dozen sheets of paper towels and bring the pile to the table! More of the Backstory after the recipe…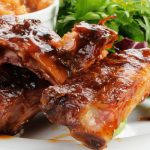 Kosher Baby Back Beef Ribs
Total Time
2
hours
12
minutes
Ingredients
2

racks

Kosher beef baby back beef ribs

1/4

cup

Kosher salt

1/4

cup

brown sugar

1/4

cup

fresh ground black pepper

1/4

cup

paprika

1

tbsp.

garlic powder

1

cup

your favorite Kosher barbecue sauce

1

tbsp.

onion powder
Instructions
In a small bowl, combine the salt, brown sugar, pepper, paprika, garlic and onion powder. Reserve 1/3 of the rub and set this amount aside for later when then ribs come out of the oven.

Take each rack of ribs and turn over to the bony side to remove thin white fat membrane that runs across the back of each rack. I find it easy to pick the end up with a knife and then use a paper towel to pull off the entire membrane. Discard the membrane.

Take 2/3 of the dry rub and rub it onto both rack of ribs, using your hands to massage it deeply into the meat on both sides of the racks. Wrap each rack separately in plastic wrap and refrigerate for at least 2 hours but preferably for 6-8 hours. (I typically do this at 9 am if I am serving the ribs at 6:30 or so).

Take the ribs out 30 minutes before you want to cook them and let them come to room temperature. Line two sheet pans with foil. Place a rack on each pan (you might need to place them on an angle to get more room for your rack!).

Bake at 300 for 2 hours. Remove ribs and brush with barbecue sauce. Bake for 15-20 more minutes. Let ribs rest for 10 minutes before cutting. If you like a more zesty/spicy rib, sprinkle with remaining dry rub (OPTIONAL). If not, discard the remaining dry rub.

Serve with additional barbecue sauce on the side (I warm mine up in the microwave). Happy eating!
…The Backstory continues: Kosher baby back beef ribs are actually very simple to prepare but there are a few tricks to making them perfectly every time. For this recipe, it all starts with a simply spice dry rub that I slather on the ribs and then let sit on the meat for a few hours (wrapped in plastic in the fridge). After the ribs cook in the coven for  1 1 1/2 – 2 hours, I sprinkle on a little more rub, add my favorite barbecue sauce, and cook for 20 minutes more. That's it. Perfect ribs every time. Serve with a salad and some cornbread and you are good to go.
Don't forget those napkins!
Please follow and like us: