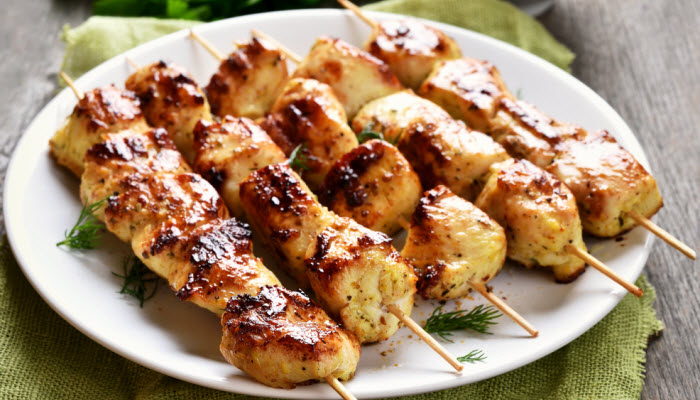 Kosher chicken kabobs turn up the flavor of chicken into a savory, zesty, sweet and tangy dish that's perfect anytime you're firing up the grill.
The Backstory: Kosher Chicken Kabobs are just one of the hundreds, (if not more) ways to prepare plain old chicken, and definitely one of the more flavorful. This recipe is similar to how your would make our delicious lamb or beef kabobs. As with all my kabob recipes, I prefer to grill the chicken on separate skewers. This way you don't have to guess which ingredients cook for a shorter or longer period of time. The difference is what vegetables you are grilling. But what makes the biggest impact on flavor is the marinade. More of the Backstory after the recipe…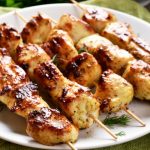 Kosher Chicken Kabobs
These mouth watering kabobs are not only are tasty but the aroma when they are grilling will have you first in line for dinner.
Ingredients
2

lbs.

Kosher chicken breast

boneless, skinless, cut into 1-1 1/2 inch pieces

1/2

cup

chopped onions

3

large

gloves of garlic, chopped

1

tsp.

paprika

1

tsp.

cumin

1/2

tsp.

Kosher salt

1/4

tsp.

black pepper

1/4

cup

lemon juice

1/2

cup

canola oil or extra virgin olive oil

2

tbsp.

fresh parsley

or rosemary
Instructions
If using wooden skewers, soak them in water for 30 minutes. Metal skewers do not need to be soaked.

In a deep dish, add garlic, onions, paprika, cumin, salt, black pepper, lemon juice and oil. Blend and taste, to check seasonings. Make any adjustment to the taste. Add chicken and cover and refrigerate for at least an hour.

Before you heat the grill, raise the grill several inches. This is to prevent the chicken from browning too quickly and to keep the marinade from catching fire.

Place 4 - 5 pieces of marinated chicken on the skewers, allowing the excess marinade to drip back into the dish. Hold the marinade in reserve. Put the chicken on the grill and brush with the reserved marinade, several times. Grill the chicken on all sides. This should take about 10 minutes.

To test to see if the chicken is done, remove one piece and cut into it. If it does not show "pink", remove from the grill and serve,
…The Backstory continues: So let me let you in on a little secret: you can buy bottled vinaigrette if you don't have time to make a homemade marinade and you will wind up with perfectly delicious kabobs. Don't drive yourself crazy thinking every single recipe has to be make from scratch. If you have the time to make one from scratch, try my homemade version below. This also goes well with red or yellow peppers, thick slices of red onions, and chunks of potatoes that you'll also grill while you grill the chicken. The trick to preparing this delicious dish is to have all your prep done before the food hits the grill. Enjoy!
Please follow and like us: