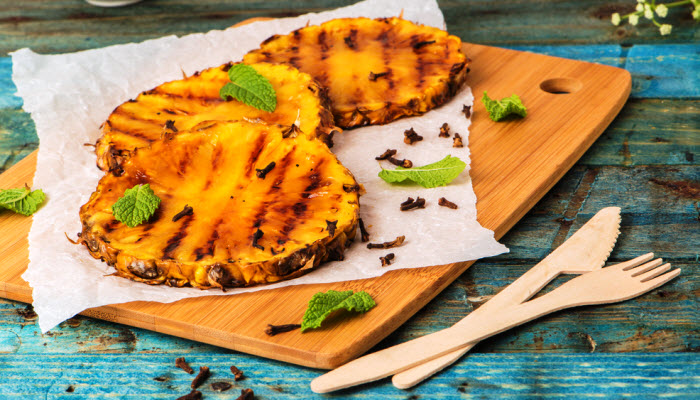 Sweet. juicy grilled pineapple is the perfect ending to a summer meal. It stands on its own or rises to perfection with a dollop of ice cream or sorbet.
The Backstory: Grilled Pineapple is just about one of the most delectable summer desserts you can serve to your guests if you're looking for a simple but wow dessert that packs a sweet but slightly tart punch. Once you put pineapple on the grill, the sugars from the grill start to caramelize and that's where the magic happens–suddenly this simply (and perfect on its own, in its natural state) fruit takes on multiple textures and layers of flavor for an unbeatable dessert that's simply irresistible. Best of all–there's basically no prep: just heat up the grill, add a little oil and go. What could be easier? More of the Backstory after the recipe…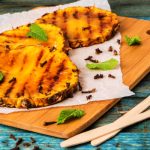 Grilled Pineapple
Pretty as a picture, the grill marks on the pineapple is very appealing to the eye. But when you bite into this delicious, sweet tasting fruit you will definitely want ask for seconds.
Ingredients
1

large

Pineapple

peeled and sliced into 1/2 inch rounds

1/2

cup

melted margarine

1

tbs.

sugar

to taste

1/4

tsp.

ground cinnamon

to taste

1/8

tsp.

ground nutmeg

to taste
Instructions
Preheat outdoor grill . Combine margarine, sugar, cinnamon, and nutmeg. Brush some of the mixture on one side of the pineapple. Put the brush side face down on the grill. Grill for 1 1/2 -2 minutes.

While it is grilling brush the side that is up with the mixture. Turn that side face down for 1 or 2 minutes. Remove and serve.
…The Backstory continues: Grilled pineapple (or peaches, plums or apricots) is also a lovely accompaniment to beef, poultry or fish. It offers the perfect yin-yang balance to savory dishes, so give this fruit another glance when you see it at your supermarket or farmer's market. It's actually a lot more versatile than you might have previously thought and cooking with it isn't rocket science. Just be ready for the oohs and aahs from friends when you serve it off the grill. It still amazes me at the kind of reception this dessert gets, especially when served with ice cream. Don't say I didn't warn you.
Please follow and like us: