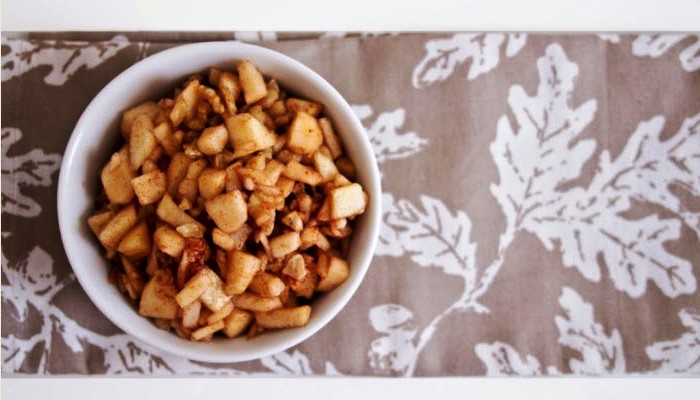 Classic Charoset is so much more than the mortar between the bricks! This delicious, fruity, and nutty mixture (a chutney, really) is sweet and crunchy with warm notes of wine and cinnamon.
The Backstory: Classic Charoset is a sweet, aromatic combination of fruit, nuts, and wine and is (at least, in my humble opinion) one of the all-time superstars of the Seder plate. I mean let's face it: next to a hard-boiled egg, a wilting sprig of parsley and a shank bone, there's not much competition. More of the Backstory after the recipe…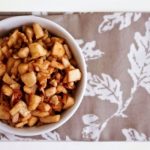 Classic Charoset
This sweet, Ashkenazi Classic Charoset is perfect for your Seder plate and is delicious on matzoh or even as a little something by itself during the holiday. Enjoy it on its own for a sweet, crunchy bite.
Ingredients
1

cup

walnuts, chopped

2

large Fuji apples

peeled, cored, and cut into medium dice

12

large dates, pitted

2

tbsp.

sweet red wine

such as Manischewitz

1

tsp.

ground cinnamon

1

tbsp.

brown sugar
Instructions
Place walnuts in a large skillet and cook over medium heat for about five minutes until nuts are fragrant and lightly browned; stir often.

Put the nuts, apples, dates, wine, cinnamon and brown sugar in a food processor and process until the mixture is smooth enough to spread but still has some texture to it (similar to chunky peanut butter).

Charoset can be served at room temperature and stored in the refrigerator in a sealed, airtight container for two days. I add a small squeeze of lemon juice to mine if I use it again the second day to give it a fresh taste.
…The Backstory continues: But all that aside, our Classic Charoset is an absolutely delicious treat in its own right. Think about it: Apples? Cinnamon? Dates? Wine? What could be bad? There are so many variations of this symbolic dish meant to commemorate the mortar used by the Isrealites when they were enslaved in Ancient Egypt, that's it's easy to forget that it does symbolize the labor of so many working and living under the arduous bounds of slavery. How could something so terrible result in something so sweet? Leave it to the Jews to make lemonade (so to speak).
This recipe is simple, delicious and easy to prepare, and stores beautifully in the fridge for a few days. You can swap out the walnuts for pistachios or pecans for a delicious twist, or doctor it up any way you choose with different dried fruits. One year I added chopped dried apricots and dried cherries and it was met with rave reviews. Quite frankly, this recipe can be used as a base and you can play with it any way you like–you simply can't go wrong.
Please follow and like us: