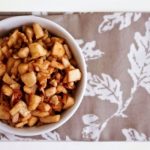 Classic Charoset
This sweet, Ashkenazi Classic Charoset is perfect for your Seder plate and is delicious on matzoh or even as a little something by itself during the holiday. Enjoy it on its own for a sweet, crunchy bite.
Place walnuts in a large skillet and cook over medium heat for about five minutes until nuts are fragrant and lightly browned; stir often.

Put the nuts, apples, dates, wine, cinnamon and brown sugar in a food processor and process until the mixture is smooth enough to spread but still has some texture to it (similar to chunky peanut butter).

Charoset can be served at room temperature and stored in the refrigerator in a sealed, airtight container for two days. I add a small squeeze of lemon juice to mine if I use it again the second day to give it a fresh taste.