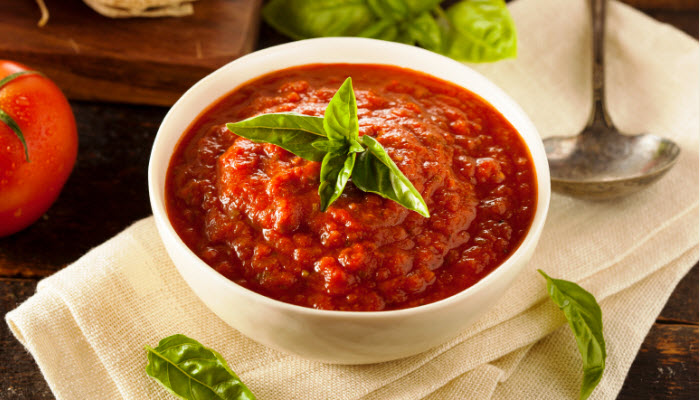 The Backstory: Full disclosure: While I'm not quite sure how Easy Marinara Sauce or many of the other Italian-based dishes found their way into so many Jewish homes in general, in my own history, I have a pretty good idea how this phenomenon occurred. More of the Backstory after the recipe…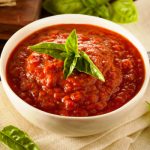 Easy Marinara
A delicious and savory marinara that is perfect for pasta, to top pizzas, and for using in any recipe that calls for red sauce. This sauce is simple to make, great for dips and freezes nicely for future use.
Ingredients
2

tbsp.

olive oil

extra virgin

1/2

medium

onion

diced

2

garlic cloves

minced

2

cans

tomato paste

6 ounces each

1

can

whole peeled tomatoes

28 ounces, San Marzano preferred

1 1/2

tsp.

Kosher salt

1

tbsp.

sugar

(more may be needed, to taste)

1/2

cup

chopped fresh basil leaves

1

cup

water

more may be needed
Instructions
Heat oil in a large pot on medium heat. Cook onions for about 10 minutes until translucent but not brown. Add garlic and cook for another 2-3 minutes.

Add tomato paste. Add liquid from the tomatoes and then, use your fingers to squish tomatoes as much as you can before dropping them into the sauce. Mix well and then add one cup of water.

Add salt, sugar, and chopped basil. Stir sauce. If sauce is too thick for your liking, add more water, starting with a half cup at a time, and stir after each addition, to get the consistency you like.

Reduce heat to low and cover. Cook for 30 minutes. Serve immediately over pasta or chicken.
Recipe Notes
Note: This sauce freezes beautifully and can be cooled and then either frozen in plastic storage bags or plastic containers for up to three months. I also serve this along side fresh slices of fresh mozzarella (you'd be surprised but kids will actually eat it instead of fried mozzarella sticks!) and I keep some on hand in my fridge for DIY pizza nights.
…The Backstory continues: When my parents schlepped my brother and me from Brooklyn, New York in 1971 over the Verrazano Bridge to our brand new house in the borough of Staten Island–what many then considered "the country" (if you can believe it), they were met with a few new realities:  A lot of young families had just similar pilgrimages from Brooklyn, Queens, and The Bronx, and our new demographic would be a hearty mix of Jews with Polish and Russian lineages and Catholics with Italian ancestry.
These new settlers plopped down roots in the same urban/rural "developments" (urban because they were a stone's throw from the bridges and tunnels that connected the borough to Manhattan and rural because to my parents and their peers, they were moving up to a better life for their children, far from the crowded cities in which they grew up.) In short, they had arrived.
And so while the Tureks (my parents) and the Leibowitzes and the Shapiros set down roots, so did the DeBernardos and the Gallos and the Chiarello's. The parents played cards and Mah Jongg while the kids rode bikes and played in the street (remember those days?) when it was still safe to do so. Neighbors had barbecues between backyards without fences and everybody brought something and somehow my mother learned how to make the most delicious chicken parmigiana in the world.
I spent Christmases with the DeBernardos for most of my high school years, and my friend Gina spent Hanukkah with my family. My mother gave her late, beautiful mother, Anna, her noodle pudding recipe, and next thing you knew, I somehow learned how to make a mean marinara. Somehow all of this seemed (and still does) perfectly normal. At Gina's house on Thanksgiving, the first course was 'macaroni' which I learned could be any pasta dish, but as luck would have it (since I am a huge fan of ravioli) was often her mother's delicate, gorgeous, fist-size, melt-in-your-mouth ravioli. Trust  me when I say that three of these beauties on a salad-size plate was a generous portion.
To this day, my family has a pasta night once a week in the fall and winter months. This typically means some sort of Italian chicken dish with pasta and a sauce of some kind (Marinara or Bolognese), always a wedge of aged Parmigianno-Reggiano on the table, and a delicious green salad with homemade vinaigrette.
This is the how and they why so many Italian-inspired recipes found their way to The Jewish Kitchen.  And it turns out, I'm not the only one to cook this way. When I first start curating recipes for the site, dozens of the women I spoke with about their Jewish recipes asked me, "What should I do with my lasagna and sauce recipes? You want them too?" That's when I realized that "cooking Jewish" was more than just cooking foods with strictly-Jewish origins, it was about sitting down together for a meal, enjoying time together as a family, and most of all, it was about discovering and telling the story about how a recipe came to be part of a family's history.
And what Jew doesn't love to tell a good story?
But in the meantime, this is one killer sauce.
Please follow and like us: