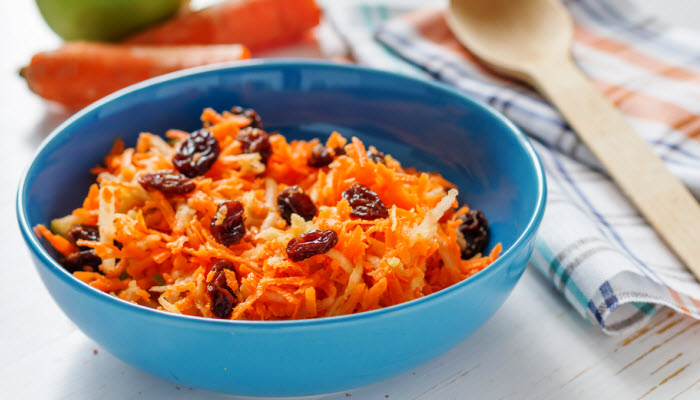 The Backstory: Another one of those classic buffet and party salads, comes the sweet and crunchy Carrot and Raisin Salad. Why didn't I appreciate this masterpiece all those years ago when it showed up at nearly every family bris, brunch, and summer party? Truth be told, when I was younger, I always associated this dish with a 'ladies who lunch' type of  thing and assumed it was all filler and simply had no taste. I could not have been more wrong. More of the Backstory after the recipe…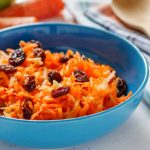 Carrot Raisin Salad
Crunchy carrots, apples and sweet and juicy pineapple and raisins are mixed with a sweet and tart dressing to make the perfect side dish for your next buffet or summer party.
Ingredients
1

lb.

shredded carrots

1/2

cup

golden raisins

brown raisins can be used

1

medium Granny Smith apple

unpeeled, chopped into medium size pieces

1/2

cup

fresh or canned pineapple, diced

drained if using canned

1/4

cup

chopped pecans, optional

more for garnish, if desired

1

tbsp.

honey

1 1/2

tbsp.

sugar

1/4

tsp.

lemon zest

2

tbsp.

freshly squeezed lemon juice

1/4

tsp.

Kosher salt

1/4

cup

mayonnaise

regular or light is okay

1/4

cup

sour cream

regular or light is okay

1/4

cup

fat free plain yogurt
Instructions
In a large bowl, combine carrots, apples, pineapple and pecans (if using). Set aside.

In a small bowl, mix together honey, sugar, lemon zest, lemon juice, salt, mayo, sour cream, and yogurt. Combine well. Add to carrot mixture and gently toss to make sure carrots and fruits are well coated.

Refrigerate for up to 2 hours and serve. Garnish with additional chopped pecans (if desired) before serving.
…The Backstory continues: Carrot and Raisin Salad is a classic side dish that has as many varieties as it does loyal fans. This recipe below is my favorite combination of many versions that combine both pineapple and apple, lemon zest and raisins, honey and a bit of sugar. Sweet? Okay, fine, it's a little on the sweet side. So sue me. After you taste it. You might rethink your decision.
Remember to refrigerate the salad for at least two hours before serving for a perfect consistency and serving temperature and then dig on in.
Please follow and like us: