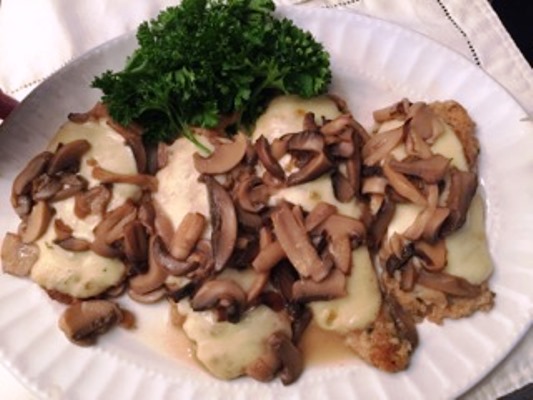 Chicken Marsala with a Twist
The Backstory: I was looking for a new chicken recipe for my family so I went to my girlfriend Elaine, whom I considered the 'mayor' of our neighborhood. I told her I needed something a little different to get out of our chicken rut. She told me she had the perfect recipe for family and company and she didn't disappoint. This recipe is easy to make, tastes delicious and is perfect for middle of the week dinners or feeding a crowd. The recipe is very similar to Chicken Marsala but in addition to the wine and mushrooms, there's the addition of delicious mozzarella cheese, which gives it a little twist to the traditional recipe. More of the Backstory after the recipe…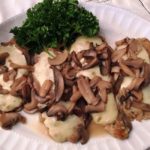 Chicken Marsala with a Twist
A savory, melt-in-your mouth entree that combines tender chicken cutlets with sauteed mushrooms, white wine, and fresh mozzarella cheese. Perfect for every night or special occasions.
Ingredients
For the Cutlets
6

Kosher chicken cutless

pounded thin

1

cup

flour

2

eggs, beaten

1

cup

dried bread crumbs, seasoned

salt and pepper

to season the flour and cutlets

olive oil for frying
For the Sauce
2

cups

beef, chicken or vegetable stock

1 1/2

cups

fresh button mushrooms, sliced

1

cup

white wine

2

tbsp.

pareve margarine

2

tbsp.

flour

fresh mozzarella cheese

approx. 8-16 oz., sliced --this step is optional
Instructions
Preheat oven to 350 degrees.

Wash cutlets and pat dry. Pound cutlets to desired thinness. Season with salt and pepper.

Beat eggs in wide bowl and set aside. Place flour on flat plate and season with salt and pepper and set aside. Pour bread crumbs onto flat plate and set aside.

Dip each cutlet into flour and shake off excess. Dip cutlet into egg and then coat with bread crumbs.

Heat oil to medium high heat in large skillet. When hot, fry cutlets for approx 3 minutes on each site or until golden brown. Drain cutlets on paper towel.

Melt 2 tbsp. margarine in stock pot, on medium heat and saute mushrooms until mushrooms are softened approximately 3 minutes. Add chicken broth and cover and cook on medium heat for 5 minutes.

Mix flour and wine together, until smooth, then add to the broth. Mixture should look cloudy. Stir constantly for 5 minutes on low to medium heat. To keep it Kosher, you can add the chicken and cook for a few minutes. Serve over rice or noodles. Or eliminate this and follow the next step.

Place cutlets in baking pan and cover with mozzarella cheese. Pour sauce over top. Bake at 350 degrees for 20 - 25 minutes, or until cheese is melted.
…The Backstory continues: The recipe calls for white wine but feel free to substitute Marsala if that's what you have on hand. Just don't use red wine. Not good. Also, fresh, sliced mozzarella works best in this recipe but shredded packaged mozzarella will also get the job done.
at
Please follow and like us: