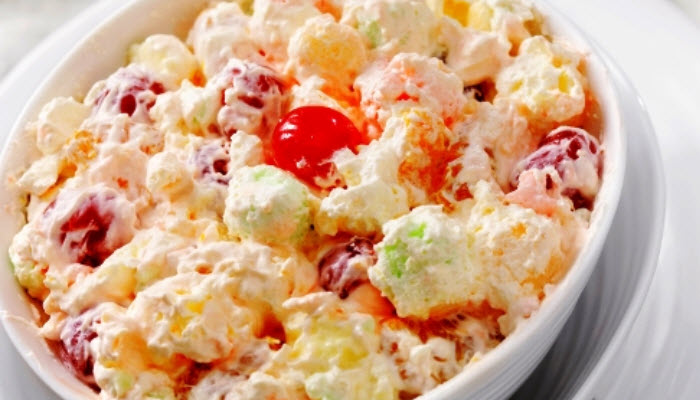 A retro-dessert that's just divine! Marshmallows, fruit, coconut and cherries combine in creamy dessert that's truly addicting.
The Backstory: For as long as I can remember, I grew up thinking that Ambrosia Fruit Salad was a Jewish food, simply because it showed up at so many family holidays, Bar and Bat Mitzvah dessert tables, Mah Jongg game spreads, and pretty much every other occasion where my family members tended to congregate. If I looked down the long line of desserts laid out on the dining room table, buffet table or kitchen counter, somewhere between the Jello and Cool Whip molds and the cheesecake fruit ring, someone had inevitably placed a heaping bowl of Ambrosia. So, somewhere in the deep recesses of my mind, ambrosia became ingrained in my mental food hard drive as something to do with Jewish cuisine. More of the Backstory after the recipe…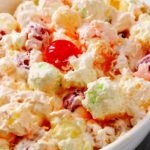 Ambrosia Fruit Salad
Tart pineapple and mandarin oranges combine with sweet bananas, maraschino cherries, mini marshmallows, shredded coconut and whipped topping to form a light and creamy salad that's perfect for feeding a crowd.
Ingredients
1

tub

Whipped Topping, thawed

Regular or Light (I prefer Cool Whip)

2

cans

mandarin oranges, 11 oz. each, drained

1

large ripe banana, peeled and diced

1

can

crushed pineapple, 20 oz, drained

2

cups

flaked coconut

1

cup

Maraschino cherries, drained

3

cups

mini marshmallows
Instructions
Drain juices from fruits and discard the juice. Combine the cherries, mandarin oranges, pineapple, and sliced bananas in a large bowl.

Gently fold in the whipped topping. Add the marshmallows and mix gently. Fold in the coconut.

Chill for at least one hour and serve.
…The Backstory continues: Little did I know that this heavenly, cloud-like confection had absolutely nothing to do with Jewish culture and that it has been as much of a church pot luck staple as it was at our own family shindigs. It's no wonder: with all those sweet fruits, marshmallows, mounds of whipped topping, and shreds of coconut running through it–everyone wants to claim it as their own.
There are so many ways to vary Ambrosia–from the tropical flavors I use here with bananas and pineapple, to a nutty, fall like version with pecans and dried cranberries. I think the common denominator is that there must be marshmallows (sounds like a decree from on high) and some sort of whipped topping or other creamy binding agent like yogurt, sour cream, or even cottage cheese (I've heard it has been done, although it wouldn't be my choice) to hold all those delicious add-ins together.
The most important thing is to refrigerate the mixture for at least an hour after folding all the ingredients together and, one more tip: make sure to drain your fruits well (oranges, cherries, pineapple, etc.) before each addition to avoid an overly liquidy salad.
Get a big serving spoon for this one folks: you're going to need it.
Please follow and like us: