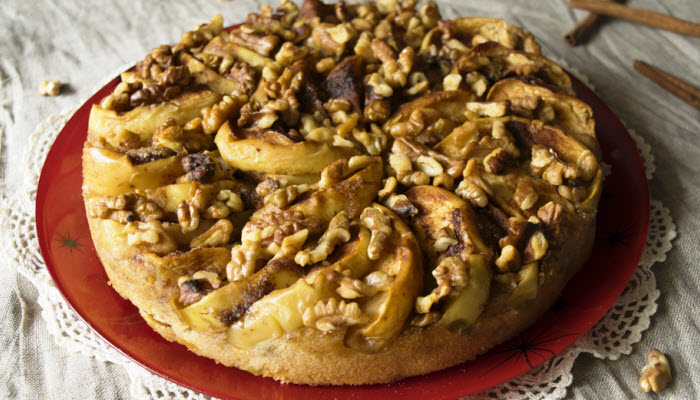 Our old-fashioned apple walnut cake smells and tastes just like what Bubbie used to make. It's sweet, crumbly, nutty and perfect for company or a nosh.
The Backstory: As beautiful as this photo is, it simply doesn't do this cake any justice. This is a gorgeous, delicious, truly perfect coffee cake that could easily become your go-to cake for Rosh Hashanah (think: apples), brunch, or anytime you want to whip up a nostalgia type of coffee cake and invite your friends over. This is the one.  More of the Backstory after the recipe…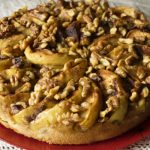 Apple Walnut Cake
This cake is a throwback to yesteryear! The warm, sweet, juicy apples run throughout the cake and the buttermilk makes the cake extra moist. The crumbly walnut topping combined with the additional apples on top truly make it stand-out delicious. Invite your friends over for coffee or brunch and enjoy a slice of nostalgia.
Ingredients
For the Cake
2

apples, 1 sliced (peeled or unpeeled) and one chopped (peeled or unpeeled)

2/3

cup

sugar

1/2

cup

buttermilk

1/3

cup

vegetable oil

1 1/4

cup

flour

1/2

tsp.

baking soda

1/2

tsp.

ground nutmeg

1/2

tsp.

Kosher salt

softened butter or margarine for greasing the pan

use margarine for Kosher cooking
For the Walnut Topping
1/2

cup

brown sugar, packed

1/3

cup

chopped walnuts

1

tbsp.

butter or margarine, at room temperature

use margarine for Kosher cooking
Instructions
Preheat oven to 350 degrees. Line an 8-inch round pie plate with parchment paper and then generously grease the parchment with butter or margarine. Fan out the slices apples around the bottom of the pan. Set aside.

In the bowl of a standing mixer or in a large mixing bowl, beat buttermilk, sugar, oil, and egg until combined. Add in the flour, baking soda, nutmeg, salt, and chopped apples and stir until combined. Do not over mix. Pour into prepared pan and bake for 45 minutes or until a cake tester or toothpick inserted into center of cake comes out clean. While cake is baking, prepare the Walnut Topping.

In a small bowl, combine the brown sugar, margarine or butter, and walnuts with a fork until the mixture resembles coarse crumbs. Set aside.

When the cake is done, remove from oven and allow it to cool for 10 minutes. Run a knife along the edges of the pan to loosen the cake and carefully invert it onto a plate or cake stand. Gently remove the parchment paper and sprinkle the walnut topping on top of the cake. Serve warm.
…The Backstory continues: What's special about this cake is that in addition to the apples you see on top (which are actually baked on the bottom during the cooking–the cake gets inverted after baking) is that there are also chopped apples throughout the cake, so there's this juicy, apple-nutmeg-buttermilk thing going on throughout the cake, in addition to the gloriousness you see on top.
And then there is the walnut crumb topping. Walnuts, brown sugar, margarine (or butter…your choice).
Like I said: it's fabulous. I cannot take any credit for it. It came to me from the late Carole Goldsmith, who gave me several other recipes for this site, back in the mid 1990s. Thank you, Carole.
Please follow and like us: