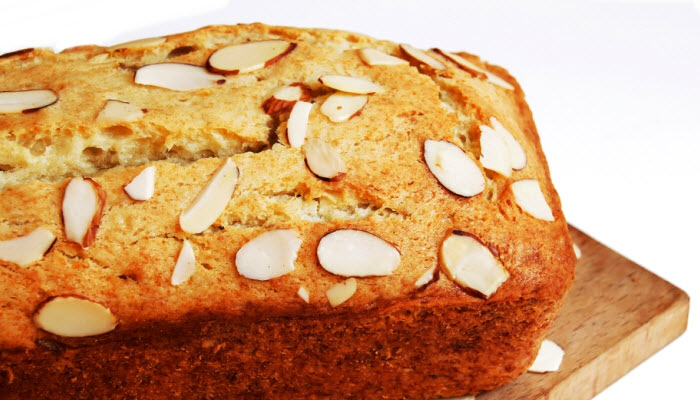 Almond-Crusted Pound Cake
Almond-crusted pound cake gives plain old pound cake a crunchy, nutty makeover in this easy, delicious recipe.
The Backstory: I have always loved vanilla cakes, good homemade gold cakes, and pound cakes in particular for the simple reason that (true confession) I'm not a fan of frosting. There, I said it. Yes, I love a fabulous mousse cake or cheesecake, and G-d knows, I've been face down in more than one lemon meringue pie (don't know what it is with me and this dessert, but it's a thing), but for some reason, I've never been one of those frosting people. My one exception is blackout cake and I don't think any self-respecting Jew can consider blackout cake to be a frosting cake. Everyone knows it's got a pudding kind of layer vibe going on (yes, that's a technical term). More of the Backstory after the recipe…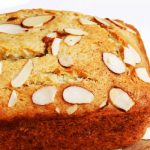 Almond-Crusted Pound Cake
This rich, almond-crusted pound cake is melt-in-your-mouth delicious. It's not too sweet and just right with a cup of tea or coffee. It also pairs beautifully with a scoop of ice cream or as a cake layer for trifle desserts.
Ingredients
2

cups

sugar

1

cup

butter, softened

3 1/2

cups

all-purpose flour

1

cup

milk

6

egg yolks

1 1/2

tsp.

baking powder

1

tsp.

almond extract

1/4

tsp.

Kosher salt

2

cups

sliced almonds
Instructions
Preheat oven to 350 degrees. Generously grease 2 loaf pans and sprinkle 1/2 cup of almonds on the bottom of each pan (1 cup total). Use another 1/4 cup of almonds for each loaf pan and pat them up the sides of each pan, pressing if necessary. Some will fall off, but that's okay. Reserve the remaining 1/2 cup of almonds.

With an electric mixer at high speed, beat sugar and butter until light and fluffy. Add eggs yolks, two at a time and combine well.

Add the flour, remaining dry ingredients and the milk, and combine on low speed. Beat until well mixed, constantly scraping the bowl with rubber spatula. Continue to beat at high speed for about 4 minutes, occasionally scraping the bowl.

Pour batter evenly into the loaf pans. Sprinkle the remaining almonds on the top of each cake and bake for 45-50 minutes or until a toothpick inserted into the center comes out clean. Cool cakes in pans on wire rack for 10-15 minutes. Remove from pans and allow to cool completely on rack (approximately 30 minutes).

Dust with confectioner's sugar before serving.
…The Backstory continues: But back to the almond-crusted pound cake.
This, my dear ones, is a thing of sweet and crunchy beauty. And I'm not saying it because I happen to make it and I know it to be true (which I do), I'm saying it because, well, I've been told so. Numerous times. Something just happens when those almonds hit the heat of the oven and start to cling on to the buttery cake for dear life. They get that chewy, bendy, I'm-sort-of-caramelizing-but-I'm-not thing, and so many wonderful, glorious things happen.
And then there's the cake itself: dense, vanilla-y (new word?), and if it's possible: creamy. This dessert is perfect as is, scrumptious with berries, ice cream, or used as a layer for a trifle dessert–the almonds give it an extra, unexpected crunch in the overall trifle (really good for Thanksgiving).
Oh, it's a wonderful thing when almonds get together with pound cake. I know you won't believe me, but I actually could write more about this. But I'll stop myself.
Please follow and like us: