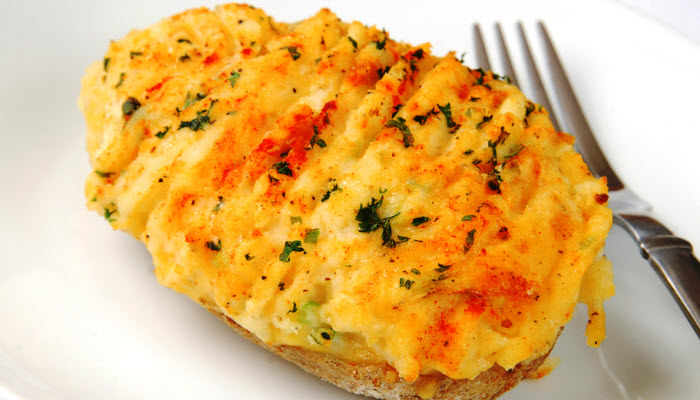 Twice-baked potatoes are creamy and savory on the inside and cheesy and crusty on top of the potato skin. That's our kind of potato heaven!
The Backstory: Twice-baked potatoes are comfort food and then some. These are the potatoes that everyone loves–the ones that are baked, scooped out, put back into the potato shells and then topped with all kinds of delicious toppings. Believe it or not, they're actually fast and easy to make and can also be prepared quite simply. More of the Backstory after the recipe…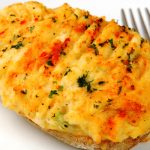 Twice-Baked Potatoes
Baked potatoes are not the most colorful of dishes, but when you start adding toppings--look out. Even in their most simplest forms, twice-baked potatoes are delicious (and nutritious). Be creative and don't forget to look for leftover veggies to top off your potatoes.
Ingredients
2

large

baking potatoes

1/2

tsp.

Kosher salt

1/4

tsp.

black pepper

4

tbs.

butter

or margarine

1/2

cup

milk

or non dairy creamer

paprika for sprinkllng

chopped fresh parsley for garnish

additional toppings such as cheese, veggies (optional)
Instructions
Wash and pat dry the potatoes. Prick with a fork in several spots.. Put into the microwave and set timer for 5 minutes. After 5 minutes, turn potatoes over and microwave for another 3-5 minutes. Test with a toothpick to see if the potatoes are done. Remove and let cool for a few minutes

Set toaster oven to 350 degrees on the bake setting. Line toaster oven tray with aluminum foil. Set aside. Put the milk, butter, salt and pepper in to a deep bowl. Cut the potatoes in half. Scoop out the potatoes into the butter and milk mixture, and combine all. Place the potato skins on the tray, add the mixture.

Sprinkle on the paprika. Put into the toaster oven. Bake for about 10 minutes. Do not let the tops burn. Remove and serve hot. Garnish with the parsley. If adding cheese or veggies, add during the last few minutes of cooking and watch to make sure the cheese does not burn.
…The Backstory continues: I first made this when I was a newlywed. That would be around 1960. I rarely cooked in the early years of marriage. On the rare occasion that I did, I made this potato dish.  My husband loved potatoes any way they were prepared. This was one of his favorites  He would devour the potatoes and I got to eat the skins as he wouldn't touch them. He had no idea what he missed! I still think they are the best part of a well-cooked baked potato.
Twice-baked potatoes are also a great way to use up leftover vegetables (or get them into your kids in the first place). Just saying.
Please follow and like us: