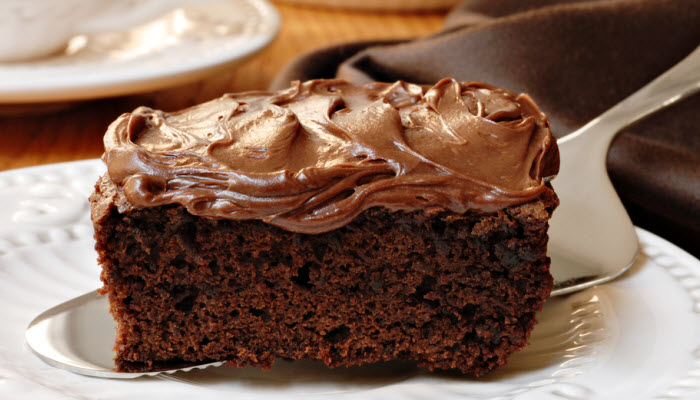 Nana's Chocolate Cake with Fudge Frosting
If you need a perfect chocolate cake, look no further than Nana's chocolate cake with fudge frosting. This is the one you've been waiting for.
The Backstory: Until I was almost seven years old, my cousin Hara and I lived side by side in one of those Brooklyn mother-daughter houses. Hara is a year (and six days) older than I am (a fact I love to point out now that we are of a certain age), but for most of my life, she was, quite frankly, my hero. She was the big cousin I looked up to, admired, emulated, and just wanted to be her. Period. Whatever she wore, said, liked, believed in…ditto for me. I worshiped her blindly.  More of the Backstory after the recipe…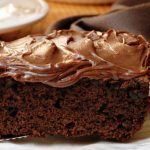 Nana's Chocolate Cake with Fudge Frosting
This is my go-to chocolate cake. It is simply, quite perfect. The cake is moist, sweet (but not too), soft, rich, and truly melts in your mouth. The fudge frosting is luscious and smooth and puts the cake over the top.
Ingredients
For the Cake
2

cups

all-purpose flour

2

cups

sugar

1/2

cup

shortening

3/4

cup

water

3/4

cup

buttermilk

1

tsp.

baking soda

1

tsp,

Kosher salt

1

tsp.

vanilla

1/2

tsp.

baking powder

2

eggs

4

ounces

unsweetened chocolate, melted and cooled
For the Frosting
2

cups

sugar

1/2

cup

shortening

3

ounces

unsweetened chocolate

2/3

cup

milk

1/2

tsp.

Salt

2

tsp.

vanilla
Instructions
Make the Cake
Preheat oven to 350 degrees. Grease and flour a 13 x 9 x 2 rectangular pan and set aside.

In the bowl of a standing mixer or in a large bowl with a handheld mixer on low speed, beat all ingredients (except frosting ingredients) for 30 seconds to combine them and then increase speed to high and beat for 3 minutes, scraping bowl occasionally. Make sure all ingredients are well combined and then pour the batter into the prepared pan(s). Bake for 40-45 minutes or until a cake tester or toothpick inserted comes out clean.
Make the Frosting
While the cake is cooling, make the frosting. Place sugar, shortening, chocolate, milk, and salt in a large saucepan and bring to a rolling boil, stirring occasionally. Once it reaches a rolling boil, allow the mixture to boil without stirring for an additional minute.

Remove pan from heat and place the pan in a large bowl of ice and cold water. With a whisk, beat until the frosting is smooth and you are able to spread it easily. Stir in the vanilla. Frost cake once is has cooled.
…The Backstory continues: Except for one day when we were about 5 and 6 respectively. Hara came outside on our shared stoop (remember that word?!), carrying what seemed to me, the largest piece of chocolate frosted cake on a paper towel, flat in the palm of her hand. She saw my eyes go wide and said to me:
"I have cake. Chocolate cake. You don't."
Total loser that I was, I burst into tears.
Now, to be fair, my cousin Hara was just about the best cousin in the world. But now and then, well, kids will be kids. This was a rare occurrence but it did happen. Sorry, Hara.
She continued: "Nana gave it to me. She gave it to me because she's my grandma."
I cried harder.
Technically Nana was Hara's grandmother on her father's side. Hara and I are first cousins as our mothers (my Aunt Sandy, the absolute best), are sisters. But the rub here was that Nana always treated me like her granddaughter. I was certain that if  Nana knew I was around, she would have given me a piece of cake, maybe two, if I had wanted it.
And with this drama going on, as fate would have it, Nana walked outside, sized up the situation and took the cake out of Hara's hand. (So there!) She brought me inside Hara's house and cut a slice for me, practically the size of my head. Bigger than my cousin's.
I forgave my cousin and within an hour we were back to playing jacks outside. And this incident only made me love Nana more than I already did. BTW, Nana's Chopped Liver recipe is to die for and the only recipe anyone in my family ever uses. It's a must-try.
In any case, this is Nana's famous chocolate cake recipe. So good. I could see why my cousin would want it for herself. Love you, BBK (cousin secret code name).
Please follow and like us: