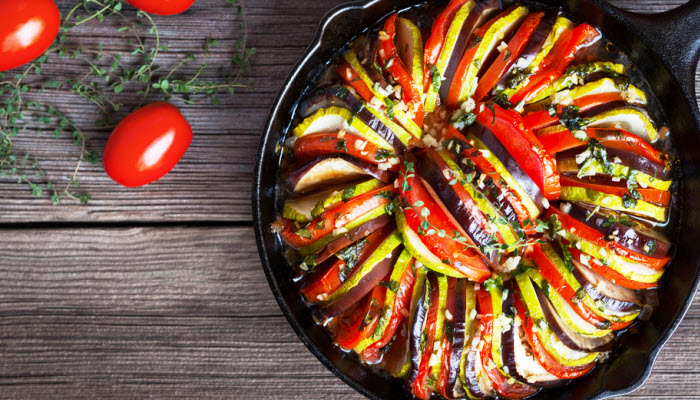 Baked Zucchini, Eggplant, and Tomatoes
Baked zucchini, eggplant, and tomatoes, is a garden-fresh side that can be made savory with herbs and baking until the veggies are soft and tender.
The Backstory: This is one dish I make for my very fussy daughter.  Their are certain types of foods she will not eat. Red meat. Frozen vegetables. Anything fried. Shall I go on?   At times when she was growing up, it was difficult to come up with something she would eat.  This was a go-to food for her whenever the right veggies were at their peak. More of the Backstory after the recipe…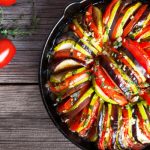 Baked Zucchini. Eggplant, and Tomatoes
This colorful veggie dish is sweet and tender and perfect as a side dish to fish, chicken or beef. It makes a gorgeous presentation (the colors!) and has the perfect balance of sweetness and tartness. Use ripe veggies and fresh herbs for best results.
Ingredients
2

large

zucchini

do not peel

1

large

yellow squash

do not peel

1

medium

eggplant

do not peel

4-5

plum tomatoes

1/2

tsp.

Kosher salt

to taste

1/4

tsp.

black pepper

to taste

1-2

tbsp.

oil

1/4

cup

grated Parmesan cheese

optional
Instructions
Preheat oven to 375 degrees. In a large round cast iron baking dish spread a little oil on the bottom. Set aside. Wash and pat dry the zucchinis, squash, eggplant, and tomatoes. Cut into 1/4 inch rounds. Alternating the veggies into the baking dish. Sprinkle with salt and pepper.

If using the cheese, put that on top if not using the cheese, still sprinkle some oil over the top. Put into the oven and bake for about 15 minutes. Check often to make sure the top does not burn. When the veggies are soft, not mussy it is done. Depending upon your oven, adjust the time.

Remove and serve hot.
…The Backstory continues: A friend of mine grew zucchinis in her backyard.  They were enormous. She was gifting everyone with zucchinis.  She said she had had her fill of them.  So, there I was with several of the very, very, large green things on my counter top. I had no idea what to do with them. It took a few minutes but I eventually came up with this dish.  I grabbed a few plum tomatoes, some seasonings and lo and behold, I had this wonderful dish which my daughter loved.
A miracle.
This dish only takes a few minutes to prepare and so I filed the recipe in my head and made it for her my daughter again and again over the years. To get a thumbs up from the princess–well, this is no small feat.
Please follow and like us: