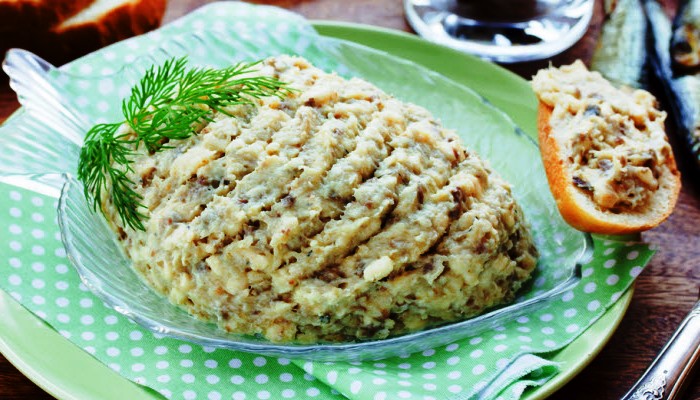 Creamy, mild and delicious, whitefish salad is perfect for sandwiches, as a dip, or on a crisp bed of lettuce.
The Backstory: A whole Smoked Whitefish is considered a typical Jewish food.  I don't know if this fish was introduced in this country and adopted by the immigrant Jews. or if it originated in Eastern Europe.  What I do know is that this is one of those foods that I was raised on, like a lot of people of my generation. More of the Backstory after the recipe…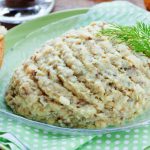 Whitefish Salad
When mayonnaise is added to flaked whitefish, it totally enhances it taste. Add to that, onion, celery and a little lemon juice, and you now have a salad that can match or surpass any old standby.
Ingredients
1

1 1/2 - 2 lbs. large smoked whitefish

1/2 +

cup

mayonnaise

to taste

1

tbsp.

fresh lemon juice

to taste

1

large stalk of celery, peeled and diced into small pieces.

1/2

sweet onion diced, into small pieces

Kosher salt and pepper

to taste
Instructions
Remove the skin from the fish. Using your hands and a fork, remove all the fish from the bones, checking to make sure you've removed all the small, thin bones.

Flake the fish with a fork. Put into a bowl Set aside.

In a larger bowl, add the mayonnaise and a little bit of the lemon juice, mix until you get the consistency you like. Add some salt and pepper. Mix and adjust until you get the taste you desire. Add the celery and onions. Add the fish and combine. Refrigerate until ready to serve.
…The Backstory continues: This fish was one of several that was served every Saturday and Sunday mornings for breakfast.  I always looked forward to this weekend meal.  In the early hours on Saturday morning, Mom and Dad would visit all the places that had an array of Jewish foods..The smoke houses had a fantastic selection of fresh whitefish, lox, sturgeon, baked salmon and assorted other Kosher fishes.
From there they went to buy cheeses and butter. Nothing came wrapped in plastic. Everything was wrapped in wax paper or butcher's paper and was 100% fresh. Whatever you wanted  was cut or sliced to your specifications–absolutely no prepackaging and someone who had years of experience handling the dairy products helped you.
The bakery was the next stop on their planned route.  Fresh rye breads, and of course jelly donuts for the kids. Bagels were purchased only at a bagel bakery, never at a place that sold cakes and other breads. Nothing frozen or wrapped in a plastic bag with an expiration date.  This was all accomplished in our Brooklyn, New York neighborhood.  I miss those days. People took such pride in their goods and the smells that wafted over you when you walked into a shop…I can still smell them.
If there was any whitefish leftover it could be made into a simple salad the next day. Which brings me to this recipe, which I now share with you. This salad is delicious on a toasted bagel or on a crisp bed of lettuce.
Please follow and like us: