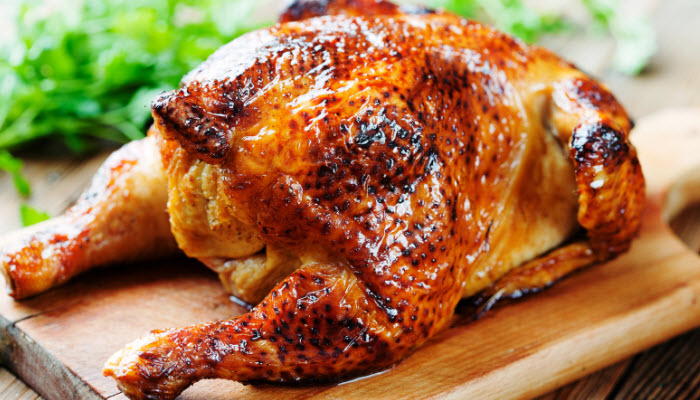 The Backstory: Chicken can be found in practically every culture and cuisine throughout the world, and in Jewish culture, chicken plays a special role in so many of our observances, menus, and customs. From our beautiful and majestic Shabbat dinners where a roasted chicken seems to bring the family back to culinary baseline, to our beloved soups (believed to be a cure and able to fill up a hungry stomach or two), there's no getting around the fact that when you think Jewish cooking, you invariably find yourself thinking about chicken. More of the Backstory after the recipe…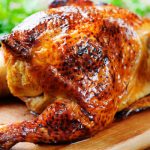 Whole Roasted Chicken
The aroma from this classic roast chicken will bring your family running to the dinner table as it floats in that air and all through the house. It's a truly comforting and welcoming dish.
Total Time
1
hour
15
minutes
Ingredients
5-6

lbs.

large Kosher chicken

1/2

large lemon

3-4

cloves garlic peeled

6

sprigs parsley

1/2

tsp.

Kosher salt

1/2

tsp.

black pepper

1

tsp.

paprika

1/2

tsp.

garlic powder

2+

tbsp.

oil

2

large carrots, peeled cut in thirds

optional

1

large sweet onion cut into quarters

optional

Butchers string
Instructions
Preheat oven to 375 degrees. Line a large roasting pan with aluminum foil. Place a rack in the pan. Set aside.

Mix garlic powder, paprika, and 1 1/2 tbsp. of oil together. Set aside. Place chicken on a rack. Rub the pepper inside the chicken and add the garlic cloves, parsley and lemon to the chicken cavity. Separate the skin from the breast and rub some oil under the skin and over the entire breast. Tie the legs together using the butcher's string.

Rub the garlic, paprika and oil mixture all over the chicken. Put the carrots and onions around the bottom of the pan. Add a little water about 1/4 inch high to keep the vegetables from burning. You can add more water as needed.

Roast for 45 minutes and then rotate the pan so the chicken cooks evenly. Roast for another 30 minutes and check to see if chicken is done by seeing if the juices run clear by cutting between the leg and thigh. if not done roast for another 15 minutes. I would not cook for more than 1 3/4 hours. If top of skin is too well done put a piece of aluminum foil on top of the chicken,

Remover and let rest for 10-15 minutes before serving.
…The Backstory continues: Well, this recipe is one of those must-have recipes in any Jewish cook's arsenal. This is your Shabbat roasted chicken, your company's coming roasted chicken, or your go-to roasted chicken. This is the chicken from where your chicken stock comes. It's the base of your soup, your chicken salad (if there are leftovers), and whatever else you decide to do with it. You can even make Chicken Marsala out of this (okay, so it's not so Jewish. But it's delicious. So sue me.)
This, my friends, is your classic roast chicken. I promise: follow the recipe and you can't screw it up.
Now go have some fun in the kitchen.
Please follow and like us: