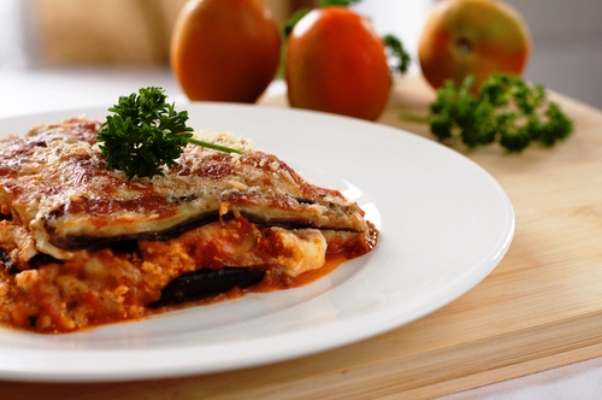 You can have your Eggplant Parmesan and keep Kosher too! Our recipe is absolutely scrumptious and tastes just like the real thing!
The Backstory: So what's a nice Italian recipe like Eggplant Parmesan doing on a site like this? Well, let me  put it this way: I raised my family in Staten Island, New York, where Jews and Italians live side by side. And thank G-d. To me, there are no differences in how we raise our children, celebrate our holidays and value family and tradition. And oh, the exchange of recipes!! More of the Backstory after the recipe…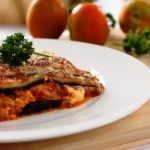 Eggplant Parmesan
This mouth-watering dish is as scrumptious as it looks. The melted cheese on top is a blanket covering the wonderful fried eggplant and sauce. When you pierce the top and take out a forkful you will definitely feel that you arrived in food heaven.
Total Time
2
hours
20
minutes
Ingredients
2

large eggplants, about 2 1/2 lbs.

wash and pat dry, cut into 1/2 inch rounds

1

cup

unseasoned bread crumbs

1

tsp.

Kosher salt

1/2

tsp.

black pepper

1

tsp.

dried basil

2

egss beaten

3+

cups

tomato or marinara sauce

homemade or your favorite jar sauce

2

tbsp.

water

1 1/2 +

cups

Kosher mozzarella cheese

BelGioiso is a good brand, Trader Joe's has Kosher brands too

2+

tbsp.

canola or olive oil
Instructions
Put eggplant slices on a rack and sprinkle with the salt. Let site for about an hour. Meanwhile you can get the other ingredients ready. In a bowl, mix the eggs and water. Set aside. In a large dish, mix the salt, pepper, basil, and the bread crumbs (or matzoh meal) together. Set aside. When the hour is up, preheat the oven to 350 degrees.

Wipe the salt off the eggplant with paper towels. Pat dry. In a large skillet, heat the oil on medium heat. Dip one slice of eggplant at a time into the egg mixture, then into the bread crumbs Repeat until all the eggplant is coated with the bread crumbs. Fry for about 2 minutes on each side until golden. Remove and put on paper towels (to absorb excess oil).

Using a 9.5 x 13 inch baking dish, pour in about 1+ cups of the tomato sauce. Put half of the eggplant in dish and cover with more of the tomato sauce, then cover with 1/2 cup of mozzarella cheese. Layer remaining eggplant slices, then the sauce, and then the rest of the mozzarella Bake for 20+ minutes until cheese is melted.

Remove from oven and let it rest for 5-10 minutes before serving. Garnish with fresh parsley or basil. Enjoy!
…The Backstory continues: I have been making this dish for so many years for my kids, that I can make it in my sleep. It's so easy to make this as a Kosher recipe, with Kosher ingredients, and there's just no skimping on taste. The recipe has many steps but it's completely worth the time.  If you love eggplant and melted, gooey, cheese, then this is the dish for you.
Since I fry the eggplant, there's no need to peel it.  If I was baking it in the oven, (without frying it first) before combining the other ingredients, I would definitely peel it. I take the extra step to rid the eggplants of its bitter juices. The recipe below will explain how it this is accomplished. I use my daughter Jodi's, easy marinara sauce, but you can also use your favorite jar sauce. And let me be honest—while I adore my daughter, there are days when I don't have time to whip up her wonderful sauce (sorry, Jo) and like everyone else, I reach for a jar.
This dish can be served as a side dish or a main course.  Add a salad, some crusty bread, and your menu is complete.  I hope you will enjoy this hearty dish as much as my family did.
NOTE: This is also a wonderful dish for Passover. Just substitute the bread crumbs for a Kosher for Passover variety or use matzoh meal in its place.
Please follow and like us: