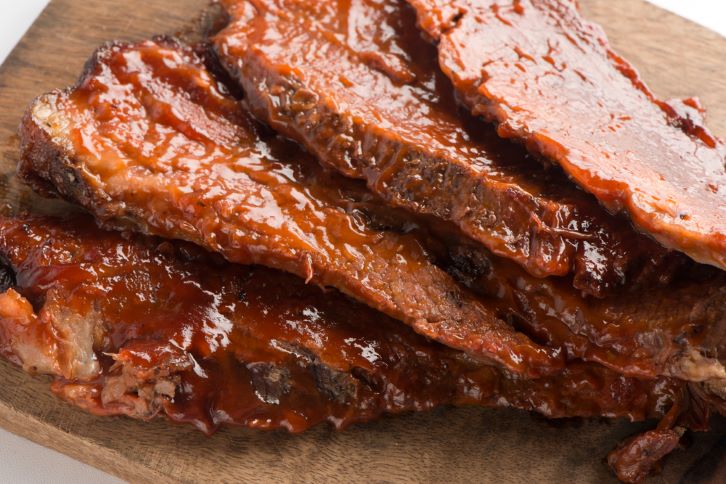 Our ultimate beef brisket is juicy, fork-tender, and our favorite brisket recipe of all time. Don't forget the challah to soak up the sweet and tangy sauce!
The Backstory: My husband Rob makes the world's ultimate beef brisket. I happen to have this on personal authority, and, as a typically non-meat-eating kind of girl, the fact that I inhale this juicy, melt-in-your-mouth, to-die-for, sweet and savory masterpiece the split second it hits the cutting board (and, truth be told, even while he's slicing it and sometimes as it's making its way to the table), should be evidence of something. It's just that delicious. In fact, it's perfect. More of the Backstory after the recipe…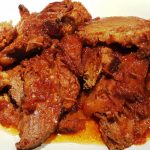 Ultimate Beef Brisket
Moist, tender meat just falls apart, and the sauce is a delicious and perfect balance of sweet and tangy with perfect seasoning. This is truly the only brisket recipe you'll ever need and our absolute favorite, hands down.
Total Time
5
hours
10
minutes
Ingredients
1

5 -6 pound

first cut beef brisket

1

32 oz. bottle

Heinz ketchup

1/2

cup (heaping)

brown sugar

(light or dark, your choice)

1 1/2

envelopes Lipton Onion Soup mix

1/4

tsp.

garlic powder (or more per your taste)
Instructions
Preheat oven to 325 degrees.

In a large bowl, combine the entire bottle of ketchup, onion soup mix, brown sugar, and garlic powder. Mix well.

Take two very long pieces of heavy duty aluminum foil and lay them out in a cross shape. The foil should be long enough to completely wrap around and cover the brisket. Place brisket on foil and pour half the mixture over the meat and spread it evenly. Turn brisket over (this will be messy!) and pour the remaining marinade over the brisket.

Wrap the foil around the meat as tightly as possible, keeping the marinade inside the foil as best you can. If necessary, add another piece of aluminum foil. It's a messy job, but well worth it!

Place foil package into a deep roasting pan. Add enough water (about 1 to 1 1/2 cups) so there is enough water to surround, but not drown the meat. The meat package should fit comfortably inside the pan with just a few inches of space around it.

Cook for 3 hours. Check halfway through the cooking time to make sure the water has not evaporated (add more if needed). After three hours, remove pan from oven. Use tongs to carefully remove foil, scraping all the gravy onto the meat. Discard foil.

Let the meat sit in the pan and on the counter for an hour. Slice against the grain and put into a large storage container, pouring gravy over the meat. Store in fridge overnight.

The next day, remove from fridge and let meat sit on the counter for one hour. Preheat oven to 325 degrees. Remove from storage container and return to roasting pan with all the gravy. Tent with foil and cook for 1 hour. Serve hot.
…The Backstory continues: Since I tend to take over all things that happen in the kitchen, Rob doesn't do much of the daily cooking. That is, until we need a brisket. At that point, it's game on and Rob takes over. In fact, in our family, Rob and brisket are synonymous. And I won't lie to you: he does some strange things while he's making it. He leans in and hugs the brisket when he wraps it up in heavy duty foil (G-d forbid it's not heavy duty–I made that error once and I won't do it again). He sings "Go down Moses…Way down in Egypt land…When Israel was in Egypt land…Let my people go" while he makes the marinade and makes his way around the kitchen getting his ingredients, as if he was actually in Egypt, searching for water and a way out. It's quite a sight to behold.
And while he's no Louis Armstrong, hearing him sing this song has become a tradition of sorts. I say that because I don't know what else to call it when someone is butchering a song but doing it with so much love and pride that you sort of have to give them props for the effort.
But back to the brisket. NOTE: This recipe can be made in one day or, after the first 3 hours of cooking, you can let the meat sit, slice it after an hour, and then refrigerate it overnight and cook it for its last hour right before serving it (which is what my husband usually does). This allows the brisket to sit sliced in its own juices overnight and become extra tender. It's entirely up to you.
I think that this is really where the magic happens. The meat sits sliced in its own juice and becomes even more tender and flavorful. But truth be told, as fabulous as it is on the first night, nothing beats this dish on the second night. It's not even right.
SECOND NOTE: I would be completely remiss if I did not give a standing ovation to the originator of this recipe. In fact, I should have mentioned her first (but she probably would not want to be associated with Rob's hugging of said brisket or any of Rob's kitchen antics. And rightly so. This magnificent recipe was given to my husband by a beloved family friend, Beth Ansell. Thank you, Beth. We love you. I'm so sorry about Rob's singing.
Please follow and like us: