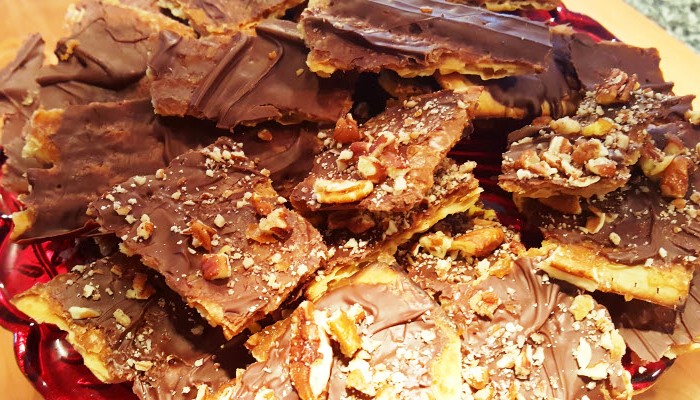 Chocolate-caramel matzoh is a decadent Passover treat that turns ordinary matzoh into a  show-stopper dessert. You won't be able to stop at one piece!
The Backstory: There are so many ways to make chocolate-careamel matzoh and about a million ways to jazz it up with nuts, white chocolate, and dried fruit, but the basic recipe remains the same.  This is easy to make, and if you have kids at home they can help out sprinkling the chocolate and/or candies on the melted caramel (so long as you supervise and make the caramel which is extremely hot and not for young hands). More of the Backstory after the recipe…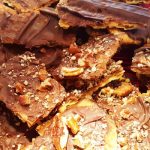 Chocolate-Covered Matzoh
Chocolate-covered matzoh is a decadent Passover treat that turns ordinary matzoh into a show-stopper dessert. You won't be able to stop at one piece!
Ingredients
4-6

boards of unsalted matzohs

broken up to cover the baking sheet

1

cup

unsalted butter

1

cup

firmly packed brown sugar

1/4

tsp.

Kosher salt

1 1/4

cups

chocolate chips (any variety)

1/2 - 3/4

cup

chopped nuts or other candies (if desired)

optional (I used chopped pecans)
Instructions
Preheat oven to 375 degrees. Line a large sheet pan with aluminum foil, over that put parchment paper. Place matzohs on the parchment paper, break into pieces in order to fit enough matzoh to cover the pan entirely. Set aside.

In a heavy sauce pan combine butter or margarine and brown sugar. Heat on medium, stirring constantly. When it is combined, add the salt. Bring to a boil. This will take about 10 minutes. Lower heat and continue stirring on a low - medium boil for another 3-5 minutes.

Pour mixture on top of matzo and spread evenly over the loboards. Put into the oven and reduce heat to 350 degrees. Bake for 15 minutes, but check often to make sure that the caramel is not burning. If so lower heat to 325 degrees. Remove from oven and immediately sprinkle all the chocolate chips on top of matzohs. Let it rest for 5 minutes. This is an important step because the hot caramel sauce will start to melt the chips to the perfect consistency for spreading. After 5 minutes, take a knife or spatula and spread the chocolate all over the matzoh.

If you want to add chopped candies or nuts to all or part of the matzoh, do so now. I added 3/4 cups chopped pecans to the matzoh you see in this recipe. Place tray in fridge to cool for 1-2 hours. After it is cooled (it can cool overnight if you want, no rush!), break the boards apart into a pieces and arrange on a serving tray. Make sure you let it cool completely before breaking into pieces.

Note: This is a great hostess gift for Passover. Buy a pretty candy dish and fill it up with the matzoh, and wrap it with cellophane and a beautiful ribbon. Voila--instant gift and dessert for the Seder.
…The Backstory continues: After the matzos have cooled, kids can break the boards into small pieces, and place them on a pretty platter.  Of course they will be sampling the pieces. You might have to make another tray of this delicious treat as this is so delicious, it will go fast (and your little helpers might indulge, leaving you with a lot less than you may  need if you're bringing it to a Seder).
I think I got this recipe from a friend, whom I dearly miss.  She also gave me a recipe for Passover bagels, which I simply cannot find in my stack of recipes. Her bagel recipe may be lost, but this dear friend will never be lost to me…we had a standing agreement between us.  I know I am going off the subject, but sometimes one thing leads to another. So, please let me digress.  Her name is Lenore, a true friend, a great gal, and loads of fun. We shared laughter and tears over the years, but most of all we shared stories and recipes.
Our agreement had nothing to do with any of that. It was Ironing.  Something we both hated to do.  So, whenever one of us had to do that chore, we would call each other on the phone.  We chatted through all the pieces that needed pressing.  Our conversations ended when we completed that chore. Our parting words were "till the next time".  To this day whenever I have to iron I remember my friend.and wish I could call her and say, "What's new?"
Instead, I iron or make her recipes, and think of her each time I do.
Please follow and like us: