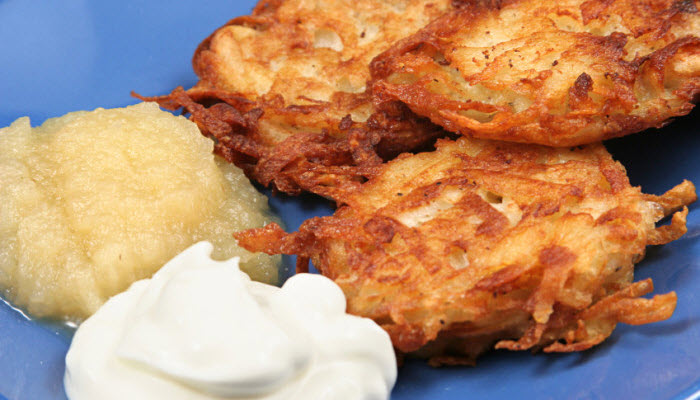 Traditional Potato Latkes
Traditional potato latkes are golden, crispy, and truly delicious, This recipe is foolproof and makes perfect latkes every time!
The Backstory: What would Hanukkah be without a heaping platter of traditional potato latkes? I, for one, couldn't imagine it, and as I sat down to input this recipe (my  mother's), I couldn't remember a time without latkes in our family's Hanukkah celebrations. I'm sure many of you can't either. More of the Backstory after the recipe…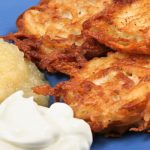 Traditional Potato Latkes
Hanukkah's star dish takes center stage as potatoes and onions are grated and made into patties and fried until golden brown. Serve the latkes with cool, rich sour cream and sweet apple sauce for a delicious, traditional take on this holiday favorite.
Ingredients
6

potatoes

peeled

1

medium onion

peeled

2

large eggs, beaten

1/2

cup

all-purpose flour

6-8

tbsp.

vegetable or canola oil

2

tsp.

Kosker salt

1/2

tsp.

freshly ground black pepper

sour cream

applesauce

1

sprig dill

for garnish (optional)
Instructions
Using a box grater or the grating blade of a food processor, grate potatoes and onion. Drain in a colander and press with your hands to remove all of the excess liquid. Put into a large bowl.

Add flour to the potatoes and onions. Gently fold in beaten eggs. Add salt and pepper.

Heat oil to medium-high heat in a large skillet. Using a large spoon, place potatoes in oil, and flatten with the back of the spoon. Allow them to cook for about 3-4 minutes before turning, and cook for another 3-4 minutes. Test one and adjust time if needed.

Put latkes on a wire rack. Place paper towels under the wire rack to catch the excess oil. Arrange latkes on large platter. Serve with sour cream and applesauce on the side. Garnish with a sprig of fresh dill.
…The Backstory continues: Latkes just go hand in hand along with so many other wonderful Hanukkah mainstays like gelt, sufganiyot, (jelly doughnuts), lighting the menorah, and spinning the dreidel.
And like so many of these wonderful traditions, there are just as many variations of the perfect latke recipe that I could spend and entire day poring over stacks of recipes (and the family stories that go with them) to determine which one should make the cut for The Jewish Kitchen.
In the end, I had to go with my mother's simple, delicious, tried and true recipe. These latkes are crisp, thin (but not too skinny, if you know what I mean) and foolproof every single time. No matter how many times my mother made them for my brother and me as a child, she still said they weren't quite as good and lacy as her Bubbie's, even though the recipe is the same. Go figure. I always felt that way when it came to my own grandmother's eggs, lox, and onions recipe. I make it the same way she always did but for some reason, it never tastes the way hers did. I used to think it was because of the oval flowered bowl she served it in, until I served it in that very bowl. Let's just say it wasn't the bowl. I think it was the love and intention.
But back to the latkes…
These are best served immediately although they can be made ahead and reheated, but those of us who've grown up eating latkes know the difference, right? Serve right away if you can and don't skimp on the sour cream and applesauce!  My mouth is literally watering at the thought of these gorgeous, crispy pancakes. How many more days until Hanukkah?
Please follow and like us: