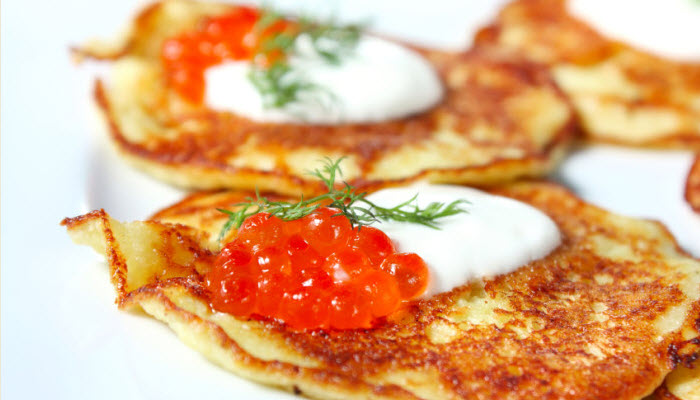 Latkes with Salmon Roe and Sour Cream
Latkes with salmon roe and sour cream are an elegant twist on traditional latkes and give a salty, tangy note to this classic holiday dish.
The Backstory: The very first time I saw salmon roe, it was dotted ever-so-perfectly around a California roll at my favorite sushi restaurant in Chicago. I had no idea at the time, that it was in fact, salmon roe. It was just part of what made that particular California roll so delicious. More of the Backstory after the recipe…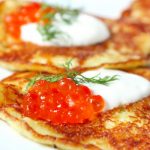 Potato Latkes with Salmon Roe and Sour Cream
Crispy potato latkes are topped with savory salmon roe and rich sour cream for a show-stopping appetizer or first course. The latkes can be made ahead and reheated just before serving for extra convenience.
Ingredients
6

potatoes

peeled

1

medium onion

peeled

2

large eggs, beaten

1/2

cup

all-purpose flour

6-8

tbsp.

vegetable or canola oil

2

tsp.

Kosker salt

1/2

tsp.

freshly ground black pepper

8 oz. sour cream

100 grams good salmon roe
Instructions
Using a box grater or the grating blade of a food processor, grate potatoes and onion. Drain in a colander and press with your hands to remove all of the excess liquid.

Add flour to the potatoes and onions. Gently fold in beaten eggs. Add salt and pepper.

Heat oil to medium-high heat in a large skillet. Place some potatoes on a large spoon and place in the hot oil, use the back of the spoon to flatten the latkes, and fry the latkes in batches. Allow them to cook for about 3-4 minutes on each side before turning.

Put latkes on a wire rack. Place paper towels under wire rack to catch oil drippings. Arrange latkes on large platter. Top each latke with a dollop of salmon roe and sour cream (or serve on the side). Garnish with a sprig of fresh dill.
Recipe Notes
Note: You can also serve this as a gorgeous, plated first-course. Place two latkes on a plate and garnish as instructed above. The dish is so beautifully presented and makes for a lovely meal starter for Shabbat or a special occasion meal such as an anniversary or New Year's Eve dinner.
…The Backstory continues:  I was a newbie to sushi and at that time, I didn't question too much of what I was eating, I was too busy marveling at the fact that it took me 30 years to discover what later became one of my all-time favorite cuisines, and wondering how in the world I managed to grow up in New York and not eat sushi for so many years.
A few years later, once again at my beloved Russian Tea Room, I had a much more up close and personal experience with salmon roe, only this time, it was perched absolutely magnificently atop a thin buckwheat pancake, called a blini, with a dollop of cool sour cream alongside it. Every single bit was pure heaven. This began a love affair between me and salmon roe. I discovered that when used in small, perfect amounts, as accompaniments, salmon roe can be an absolutely beautiful thing.
A few years ago, I added it to my mother's potato latkes as a garnish (similar to the blinis I had at brunch at the RTR) and the effect was just as fabulous. It's a little bit indulgent but completely worth it. I won't say it's something my children love, but I've yet to meet a grown up who doesn't love salmon, who didn't love this. Try it the next time you're making latkes. The combination of crispy potatoe pancakes, cool, smooth sour cream, and slightly salty salmon roe is absolutely irresistible.
Whether you serve it on a large platter for a crowd or plated as a first course, this is truly a show-stopping presentation.
Please follow and like us: