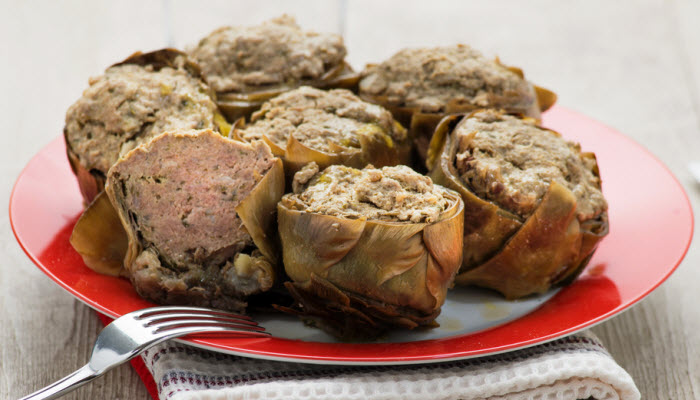 Stuffed artichokes are a savory, filling, and elegant side dish and perfect for the vegetarian foodies at your table.
The Backstory: I've only eaten artichokes a few times. A variation of recipes have been in my files for decades. My daughter-in-law loved this vegetable. I never made it for her. I had promised I would.  In a way, I did, but I didn't.  I cheated by purchasing them from a restaurant. She loved them and I was off the hook. This is but one way to prepare them. It is made with meat, but many other common ways to prepare this many-petaled veggie are to make stuffed artichokes. There are so many ways to do this! You can stuff the petals with rice, cheese, and other chopped vegetables or stuff or sprinkle buttered breadcrumbs over the entire artichoke and bake it.  You can also simmer them on the stove, steam them, or bake them whole. Either way they are delicious and worth the effort to stuff them and pull them apart, petal by petal to enjoy them.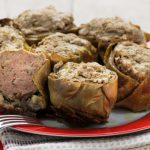 Stuffed Artichokes
The green of the artichoke changes color to brown when cooked. It may not look very pretty when it comes out of the oven but the savory filling makes up for it!
Ingredients
4

large

artichokes, leaves snipped

remove the choke

3/4

lb.

Kosher ground beef

2

large

egg beaten with a little water

1

tsp.

Kosher salt

divided

1/4

tsp.

black pepper

3/4+

cup

unseasoned bread crumbs

if using seasoned bread crumbs adjust the seasonings to your taste

1

cup

canola or vegetable oil

divided

2

8 oz cans of tomato sauce

1

juice of a fresh lemon

1

tsp.

sugar

1

cup

water

2

sprigs of parsley, leaves only for garnish (optional)
Instructions
In a bowl mix 1 egg, with a little water. Set aside. Put the bread crumbs in a large bowl. Set aside. In another bowl mix 1 egg, 1/2 tsp. salt, pepper, and beef. Set aside. In another bowl mix the tomato sauce, lemon juice , sugar, 1/2 tsp. salt 2 tbs. oil and 1 cup water. Set aside.

Fill each artichoke with the meat mixture. Set aside. Dip the artichokes into the egg and water mixture, and then into the bread crumbs. Heat a skillet with 2 tbs. of oil. Place the artichoke face down in the oil. Cook about 3 minutes. Remove from heat. Heat a large sauce pan add the rest of the oil, when hot, add the artichokes, face up. Sprinkle with a little salt and cook for about 5 minutes. Increase heat to high and add the tomato sauce mixture. Bring to a boil and then reduce heat to low. Cover pan and cook for 30-40 minutes. Remove and serve hot with crusty bread.

Garnish with herbs. Serve hot.
Please follow and like us: