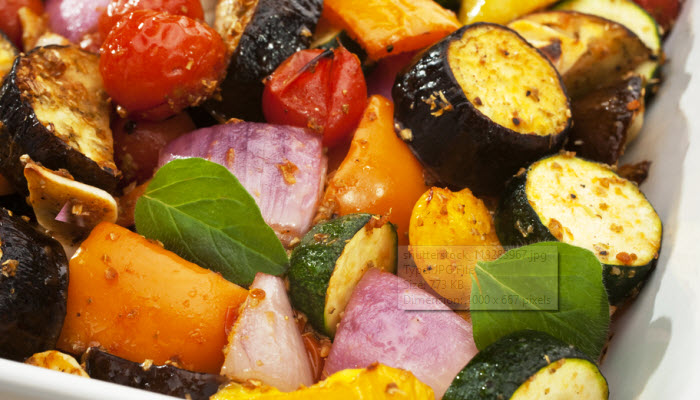 Oven roasted vegetables are sweet, caramelized, and fork tender. They are so delicious, they can be an entire meal unto themselves.
The Backstory: Roasted vegetables are so easy to prepare. And they are a great pairing for chicken, fish, or beef. I have made so many variations of this side dish.  Whatever vegetables I have or whatever looks good in the produce department at my local market, that is what I use. I cook my veggies in the oven, but during the warm months, they can be grilled outdoors. This is not rocket science–even a first time cook can make and serve this proudly.  Whether roasting veggies or roasting meats, this type of cooking has been around since man discovered fire.  And according to my kids, I was present at the time. More of the Backstory after the recipe…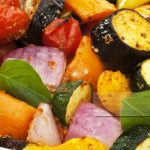 Oven Roasted Vegetables
The array of colors and the aroma of the veggies is so inviting. They are crunchy on the outside and tender on the inside. You can also add crumbled goat cheese (or any other kind you like) to make this a filling vegetarian meal.
Ingredients
1

eggplant, cut into large chunks

1

red pepper seeded and cut in large chunks

1

large sweet potato peeled, cut into large chunks

1

large sweet onion, cut into large chunks

3

large potatoes, peeled and cut into large chunks

1/2

tsp.

Kosher salt

1/4

black pepper

3

sprigs rosemary leaves

2

tbsp.

canola or vegetable oil divided

6

cherry tomatoes

fresh parsley for garnish (optional)
Instructions
Preheat oven to 425 degrees. Line a large baking sheet with aluminum foil. Put all the prepared vegetables on the sheet. Sprinkle with salt and pepper and drizzle oil on top. Mix all the veggies with clean hands. Make sure all the veggies are evenly coated. Sprinkle the rosemary leaves over them. Spread vegetables in a single layer. If making a lot, you may need two baking sheets

Bake for about 30-40 minutes. Check the veggies every 10 minutes and stir them around to prevent sticking. When they are golden and crispy, check to see if they are tender. Remove and serve hot.
Please follow and like us: