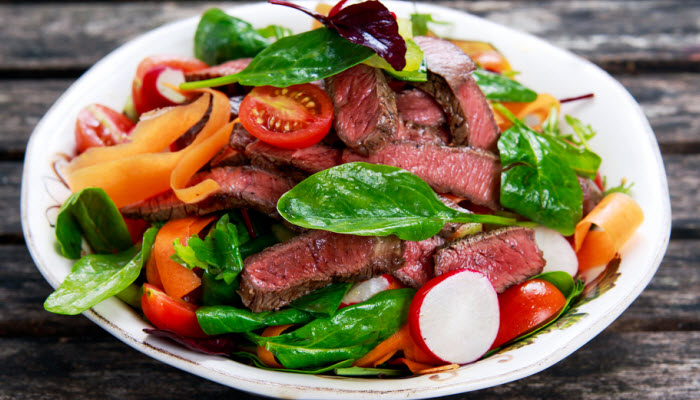 Perfectly seasoned steak and crisp, fresh greens combine for a delicious steak salad that's perfect for dinner or lunch. Easy to make and healthy too!
The Backstory: When I was growing up in the 1940s and 1950s, a steak was a steak and a salad was a salad. I can only imagine the look on my father's face had my mother served him a steak salad back in those days! I could even hear his reaction as he looked down at the plate of thinly sliced meat nestled between a heap of lettuce and tomatoes: "Gertrude, what? I didn't make a living this week?"  More of the Backstory after the recipe…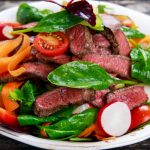 Steak with Salad
Talk about a delicious way to use up leftover steak! The steak and the salad dressing gives it deep, zesty flavors and the colorful salad is a fest for the eyes and tastebuds!
Ingredients
2

lbs.

Kosher thinly-sliced steak

1-2

tbsp.

oil

1/2

tsp.

Kosher salt

1/4

tsp.

black pepper

1/4

tsp.

garlic powder

1-2

8 ounce bags of fresh spinach

or any other lettuce

1/2

red onion sliced in rings

1

large

carrot peeled and shredded

2

large

tomatoes, cut in wedges

1

large

cucumber, peeled and sliced into small rings

4

radishes, cut into thin rounds
Instructions
Heat 1 tbsp. oil in a large skillet. Pat the steak dry. Season with salt, pepper, and garlic powder. Put steak in pan and cook for about 3 minutes. If more oil is needed use the remaining oil, Turn and cook for another 3 minutes. Check to see if the meat is soft and fully cooked.

Remove when done. Set aside the pan drippings. Let it rest while you make the salad. On a large platter spread the greens. Arrange the veggies on the platter. Set aside. Slice the meat into strips or small pieces and put on top of the salad.

You can add some of the pan drippings or your favorite salad dressing, to complete the dish.
…The Backstory continues: Boy have times changed! What I love about this dish is that the steak is cut into strips or small pieces and is mixed into the salad. The meat absorbs all the delicious flavors of the dressing and seasonings and it's just delicious.  I make this all the time.  I use thin steak, because it cooks fast. If you bring home any leftover steak from a restaurant, this makes a fast meal.  Just reheat the steak and add it to the salad.  I am not a salad lover but this dish makes me have the veggies that I sometimes ignore.  I use what ever salad ingredients I have in the refrigerator.  I sometimes add a cooked vegetable.  So easy and so good this might become a go-to recipe for you, too.
Please follow and like us: