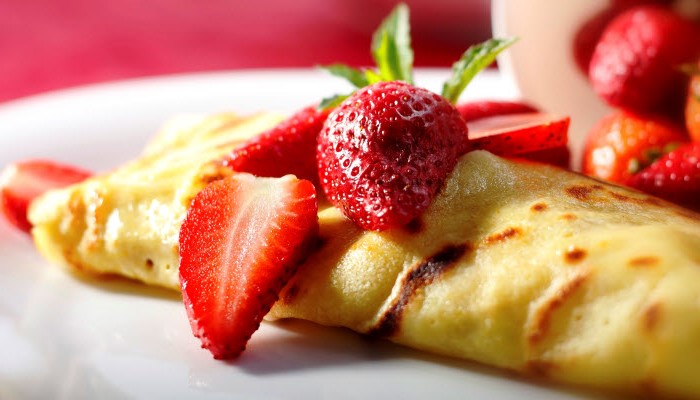 Strawberry Cheese Crepes – Healthy Option
Rich, sweet, and decadent done right!  Our recipe for strawberry cheese crepes takes an indulgent dessert and makes it guilt-free.
The Backstory: Every now and then I love to go all out and whip up a wow dish that's a real showstopper for my friends and family. Strawberry cheese crepes are definitely that kind of dish, and truth be told, they're not that hard to make. Having all your ingredients prepped and ready to go is key, but once you've done that, you're good to go. My recipe lightens up traditional crepes but you'll never believe that because the sweet combination of creamy filling with fresh strawberries will have you thinking strawberry cheesecake, but without all the guilt. These are absolutely scrumptious–don't be surprised if your guests ask for the recipe.More of the Backstory after the recipe…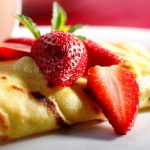 Strawberry Cheese Crepes - Healthy Option
These decadent strawberry cheese crepes are a showstopper and then some. This is a perfect dessert or brunch dish that will wow your guests. The crepes surround a light, creamy cheese and strawberry filling and are topped with a luscious strawberry sauce. Seconds, anyone?
Ingredients
For the Crepes
1 1/4

cups

all-purpose white flour

1/4

cup

sugar

1/4

tsp.

Salt

1/4

cup

whole eggs

1/4

cup

egg whites

1 2/3

cups

skim milk
For the Strawberry Cheese Filling
12

ounces

fat-free cream cheese

1/3

cup

sugar

2 1/2

tsp.

vanilla extract

2 1/2

cups

fresh strawberries, sliced
For the Topping
1

lb.

frozen, unsweetened strawberries, thawed

1

tbsp.

honey

2

tbsp.

cornstrach

2

tbsp.

water
Instructions
Place flour, sugar, and salt in a medium bowl and stir. Make a well in the center of the flour mixture and add eggs.

Mix egg and flour while pouring milk into the bowl, stirring well to combine. Beat with electric beater until it's free of lumps. Let stand for 5-10 minutes until slightly thickened.

Spray a non-stick saute pan with non-stick cooking spray and heat pan on medium high. Add a 1/4 cup of batter to pan and swirl around the pan.

As the edges cook, use a spatula to lift the edges of the crepe. After about 1 minute, flip the crepe over and cook for approximately 30 seconds.

To make filling, hand-mix with spoon (or blend with electric mixer on VERY slow speed as not to make too thin) the cream cheese, sugar and vanilla extra until combined.

To make topping, place thawed strawberries in food processor with honey and process until blended. Add to a saucepan and heat until boiling.

In a separate bowl, mix the cornstarch and water and make a paste. If mixture is too thick, add slightly more water--a little at a time. Add the cornstarch-water paste to the boiling topping mixture and continue boiling until thickened. Let cool.

To assemble the crepes, fill each center of the crepe with 1/4 cup strawberry/cream cheese filling.

Wrap each crepe by bringing up the sides first and then rolling away from you to seal edges.

Top each crepe with 2 tbsp. sauce.
Recipe Notes
190​​
| | |
| --- | --- |
| Nutrition Information | Per Serving |
| Calories: |  190 |
| Total Fat: | 1g |
| Saturated Fat: | 0g |
| Trans Fat: | 0g |
| Cholesterol: | 15mg |
| Protein: | 9g |
| Carbohydrates: | 38g |
| Sodium: | 270mg |
| Fiber: | 2g |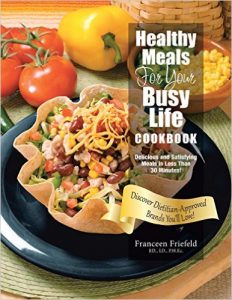 …The Backstory continues: You can find other tasty recipes in my latest cookbook, Healthy Meals for Your Busy Life. In my new book, I've created a collection of delicious and satisfying meals from Lemon Poppy Seed Cake to Smoked Salmon and Cream Cheese Spirals — that you can prepare in 30 minutes or less. I know you'll love them and that they'll leave you feeling full, satisfied, and happy that you've made healthful choices that don't sacrifice on taste!
Please follow and like us: