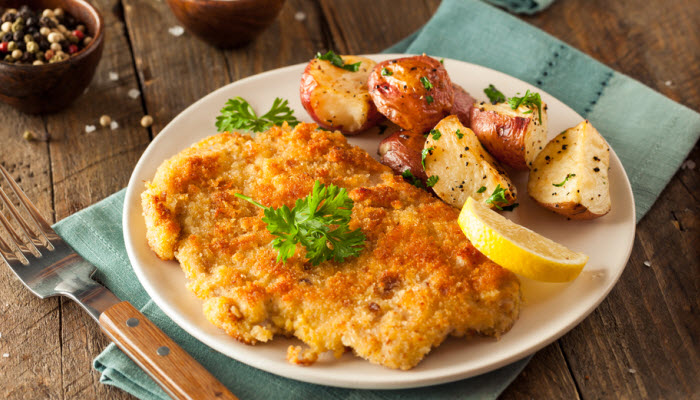 Passover Grilled Veal Chops
Grilled veal chops are an easy way to enjoy an elegant cut of meat and they come out tender, and juicy, every time.
The Backstory: Veal is one of the most expensive cuts of meat on the market today.  Yet going back decades, I was lucky enough to have enjoyed this meat frequently and it was a staple in many Jewish homes in the 1950's.  My mom always prepared the chops for Passover the same way every time. She would  simply season the meat with salt, pepper, and some herbs. After the chops were done she would served the same sauce, tomato sauce with mushrooms. More of the Backstory after the recipe…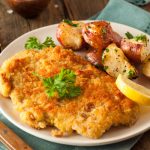 Passover Grilled Veal Chops
The meat calls for simple ingredients. Sometimes less is best and this is one of those times. The meat is grilled and the sauce adds a delicate flavor. Serve this with fried potatoes, carrots and a simple green salad.
Ingredients
2

1-1/2 inches Kosher Veal Chops

1/2

tsp.

Kosher salt

1/4

tsp.

black pepper

1+

tbsp.

vegetable or canola oil

1

tsp.

herb of your choice

.

tomato and mushroom sauce
Instructions
Preheat a grill pan, add 1/2 tbs. oil. Swirl pan to coat. Salt and pepper the meat, and if using any herbs add it to the chops. Rub some oil on the meat. Grill on medium to high heat for about 6 minutes. Turn and grill for another 6 minutes. If more oil is needed do it when you turn the meat. Remove and put on a platter to rest.

Heat the tomato and mushroom sauce. Put the sauce into a gravy boat and serve on the drive.
…The Backstory continues:  During Passover, she would serve this with mashed potatoes, or fried potatoes. During the year she would make spaghetti.  I think we were lucky that she used tomato sauce. Some of my friends said that their spaghetti usually was topped with ketchup.  How gross!!!!!!!!!!!    Years later, my kids told me that when they went to a Jewish day camp in Brooklyn, they were also served spaghetti with ketchup instead of sauce.  And that was during the 1970's. So much for progress.
In any case, this dish is easy to make and the recipe calls for two servings.  Enjoy it with someone special.
Please follow and like us: