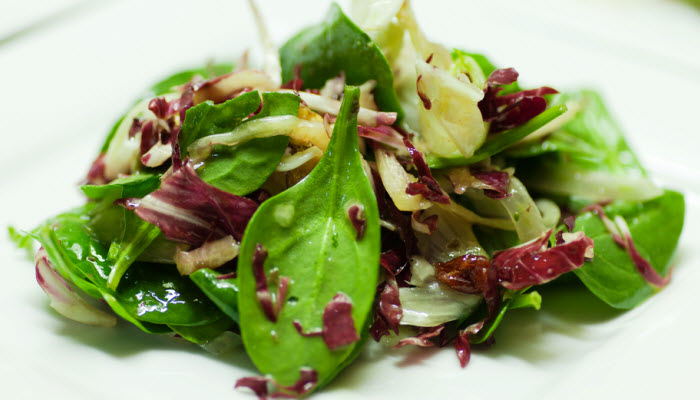 Tossed Green Salad with Herb Vinaigrette – Healthy Option
For a refreshing and light first course, try our tossed green salad with herb vinaigrette. It's zesty, fresh, and perfect with fish, chicken or steak.
The Backstory: This light and zesty tossed green salad with herb vinaigrette is the perfect first course for just about any meal and or occasion. You can dress it up and make it a meal unto itself with the addition of grilled fish, chicken, or steak, or turn it into a lovely summer dish with sliced berries, almonds and chicken right off the grill. However you choose to use it, it's versatile enough to be served all year round and the homemade dressing recipe can be easily doubled (or tripled) to serve a crowd.  More of the Backstory after the recipe…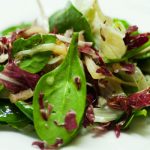 Tossed Greens with Herb Vinaigrette - Healthy Option
Fresh garden greens and a zesty herb dressing combine to make the quintessential green salad that's perfect all year 'round. Add sliced chicken, fish or steak to turn this salad into a full meal or enjoy it as a first course.
Ingredients
For the Dressing
1/4

tsp.

raw garlic, minced, plus a little more

1/8

cup

orange juice

3/4

tbsp.

Dijon mustard

1/4

tsp.

dried basil leaves, plus a pinch more

1/4

tsp.

dried oregano leaves, plus a pinch more

1/4

tsp.

sugar, plus a pinch more

1 1/2

tbsp.

water

1/8 cup + 1 tbs.

balsamic vinegar

1/8 cup +1 tbs.

fat-free mayonnaise
Greens
3/4

lb.

(1/2 gallon) Romaine lettuce, chopped

1/4

lb.

(1 quart) Red Leaf lettuce, chopped
Instructions
Blend ingredients for dressing in food processor until smooth. Hold refrigerated at 40 degrees F or below until ready for use.

Toss greens together. Refrigerate at 40 degrees F until ready to use.

Toss in dressing just prior to serving.
Recipe Notes
​​
| | |
| --- | --- |
| Nutrition Information | Per Serving |
| Calories: |  25 |
| Total Fat: | 0g |
| Saturated Fat: | 0g |
| Trans Fat: | 0g |
| Cholesterol: | 0mg |
| Protein: | 1g |
| Carbohydrates: | 5g |
| Sodium: | 160mg |
| Fiber: | 1g |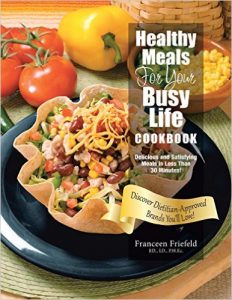 …The Backstory continues: You can find more tasty recipes in my latest cookbook, Healthy Meals for Your Busy Life. In my new book, I've created a collection of delicious and satisfying meals from Poached Pears in Fruit Juice to Broiled Halibut (or Salmon) with Garlic and Tarragon — that you can prepare in 30 minutes or less. I know you'll love them and that they'll leave you feeling full, satisfied, and happy that you've made healthful choices that don't sacrifice on taste!
Please follow and like us: