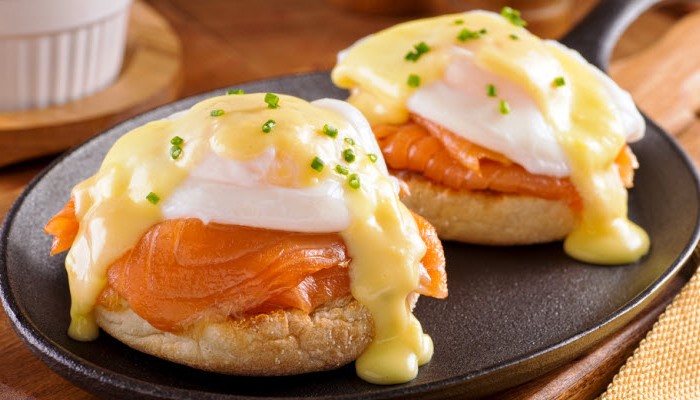 Smoked Salmon Eggs Benedict
This smoked salmon Eggs Benedict recipe is truly perfect, easy, and the best brunch dish you'll ever make.
The Backstory: Well, what can one say about this decadent twist on the classic Eggs Benedict? Whoever makes this for you really loves you, because this dish, done well, is a perfectly executed effort of love. It's not difficult to make, but the timing is everything and the efforts are well worth it. It is just truly delicious, savory, full of different textures from the creamy Hollandaise to the tender eggs to the salty lox. This is a magical, indulgent, and splurge-now-and-then kind of dish. More of the Backstory after the recipe…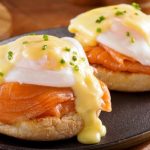 Smoked Salmon Eggs Benedict
Perfectly poached and creamy eggs and slightly salty lox perch atop a crispy English muffin and are topped with luscious Hollandaise sauce in this updated, classic brunch entree. Your taste buds will love you for taking the time to make this decadent dish!
Ingredients
3

egg yolks

2

tbsp.

lemon juice

1/2

cup

butter or margarine

1/4

tsp.

Kosher salt

2

English Muffins, split

8

slices smoked salmon

4

large eggs

2

tbsp.

butter (for greasing skillet and buttering English muffins)

green onions for garnish (optional)
Instructions
Prepare the Hollandaise
Add egg yolks and lemon juice to a double-boiler top. With a wire whisk, beat until well mixed.

Place double boiler top over bottom pot containing hot BUT NOT BOILING, water.

Add 1/3 of the butter or margarine to the egg yolk mixture and cook, beating constantly until the butter is completely melted. Add another third of the butter, beating constantly. Repeat with remaining third, beating until mixture thickens and is heated through.

Remove from heat. Stir in salt. Keep warm while you poach the eggs and prepare the rest of the dish.
Poach the Eggs
Lightly grease a saucepan or deep skillet. Pour in 2 inches of water. Heat water to boiling and then reduce the heat to low/simmering. Break an egg into a small bowl or saucer and then gently slip into the simmering water. Repeat with the other 3 eggs. Simmer 3-5 minutes until desired firmness. DO NOT OVERCOOK. When the eggs are done, remove with slotted spoon and drain over paper towels to catch extra dripping water

While the eggs are simmering, put the English muffins in the toaster and toast them.

To assemble: Place two English muffin halves on a plate and lightly butter them. Add a slice or two of smoke salmon on each muffin half and top with a poached egg and warm Hollandaise sauce. Garnish with green onions. Serve immediately with extra Hollandaise on the side in a serving pitcher.
…The Backstory continues: I first had Smoked Salmon Eggs Benedict at the famed Pump Room restaurant in Chicago, circa 1995. The restaurant was in the Ambassador East Hotel, along Chicago's Gold Coast, and what an amazing room it was. Gorgeous gilt mirrors, glass everywhere, velvet banquette seating, magnificent mile-high floral arrangements in mirrored vases, and of course, wall-to-wall photos of the Rat Packers (Sammy, Frank, Dean, Shirley) and the other celebrities who made the place famous back in the 1950s and 1960s.
What a place. And what a menu, including this delicious recipe. I hope you'll try it and pamper someone you love.
Please follow and like us: