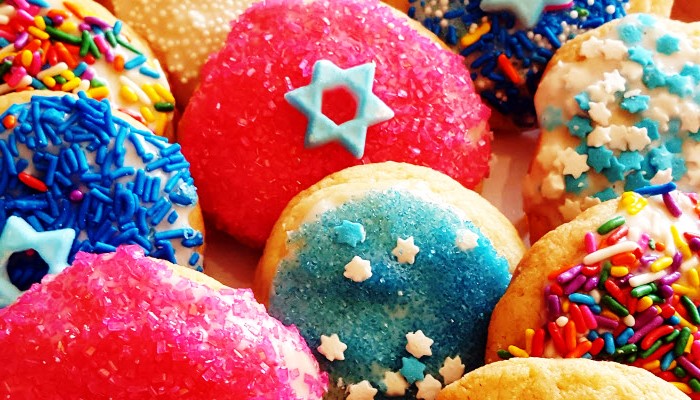 Shirlee's sugar cookies are truly melt-in-your mouth perfect butter cookies that are impossible to put down after just one bite. These are delicious with coffee, tea, or tucked inside a lunch box. Decorate them for showers, Bar or Bat Mitvahs, or a special buffet table.
The Backstory: As with all Jewish family stories, there's always something funny, even when there's some part of the story that's sad. I think it's the Jewish thing. Something in our DNA. So here goes: this recipe came to me this week, from my late cousin, Shirlee Feldberg. Of course this makes no sense, as Shirlee is no longer with us. But the story goes sort of like this. More of the Backstory after the recipe…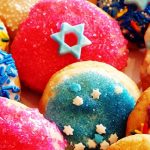 Shirlee's Sugar Cookies
These are perfectly crisp on the outside with a slight chewiness on the inside. Dress them up for Hanukkah with pretty blue sugar or other holiday decorations.
Ingredients
For the Cookies
1/2

cup

butter or margarine

1

cup

sugar

1

egg

well beaten

1

tbsp.

milk

1/2

tsp.

vanilla

1 1/2

cup

flour

1

tsp.

baking powder

1/4

tsp.

Kosher salt

sugar

2-4

tbsp.

milk
For the Icing
1

cup

confectioner's sugar

1/2

tsp.

pure vanilla extract

2-4

tbsp.

milk

assorted colored decorative sugars
Instructions
Make the Cookies
Cream butter or margarine. Beat in 1 cup sugar, egg, milk and vanilla.

Add flour, baking powder and salt to butter mixture. Mix well. Cover and refrigerate 3-4 hours or until dough is firm.

Preheat oven to 375 degrees. Roll dough into small balls, about 3/4" in diameter. Place 2" apart on lightly greased cookie sheets. Flatten tops with the bottom of a glass dipped in sugar.

Bake 8-10 minutes or until cookies are lightly browned around the edges.
Make the Icing
In a small bowl, whisk together the Confectioner's sugar, vanilla, and 2 tbsp, milk. Add more milk, by the tbsp, as needed, to get the consistency and sweetness you desire.

Take each cookie and dip it face down into the icing. Then either sprinkle different colored sugar on top of each one, or dip the entire cookie face down into individual plates or bowls of colored sugar. Allow to sit for a few minutes for the sugar and icing to come together and settle, before serving. NOTE: These can be frozen in a plastic bag or airtight container.
…The Backstory continues: My mother sent me this recipe (among many others) via email, after receiving it from her cousin, Rhonda), who somehow managed to get her hands on Shirlee's former Sistherhood cookbook, from Congregation Shaarey Tfiloh of Spring Valley, New York. Still with me?
Shirlee was the organizer for this Kosher cookbook (which is a gorgeous book, by the way, with stories about the holidays, illustrations, and dozens of amazing recipes from its Sisterhood members). It took the Sisterhood over two years to bring the cookbook to life and you can see the love and dedication in each recipe and page.
Once I received the cookbook, and pored over its truly delicious pages, I wanted to share many of Shirlee's recipes with all of you. But I needed permission to do so. But how, under the circumstances? And come to think of it, how did Rhonda acquire the book?  I have to meet Rhonda one of these days. Rhonda is wonderful from what I understand. She has given so generously to this site. And Rhonda, if you are reading this, my mother adores you and I want to meet you too! But I digress…
Back to Shirlee's recipes. What to do?
Enter: Big Lennie.
Shirlee's husband, my cousin, and for all my life, the 6 foot 3 (maybe 4) man that I swear is the spitting image of—my mother. Sorry mom.
So I called my cousin, Big Lennie, whom I've not spoken with nor seen since another cousin's wedding some four years ago, and after a wonderful conversation about this and that, I asked him for permission. And he graciously said,  of course, Shirlee would want her recipes shared with anyone who wanted them. In addition, he offered to send me some other recipes from his mother, Esther, whom I remember visiting when I was a little girl.
And so why do I tell you all this instead of simply talking to you about the sugar cookie recipe? After all, that is why you ended up here. First of all, they are delicious. They wouldn't be on The Jewish Kitchen if they were not tried and true. But more importantly, if you were at my house having a cup of coffee and some cookies and happened to mention to me that you liked them, you and I both know what would have happened: I would have told you the same story. That these were Shirlee's cookies and how I came to possess the recipe.
And that's why I created this site. Because it's the stories behind the recipes that brings us together, and how each generation, each family member, and each friend becomes the keeper of the recipes and the stories and how we pass them on.
And so, I give you Shirlee's Sugar Cookies. There are many other recipes by Shirlee Feldberg on this site. You will see my name attached to them as I published them on her behalf. But they all belong to her. And now, to you.
Please follow and like us: