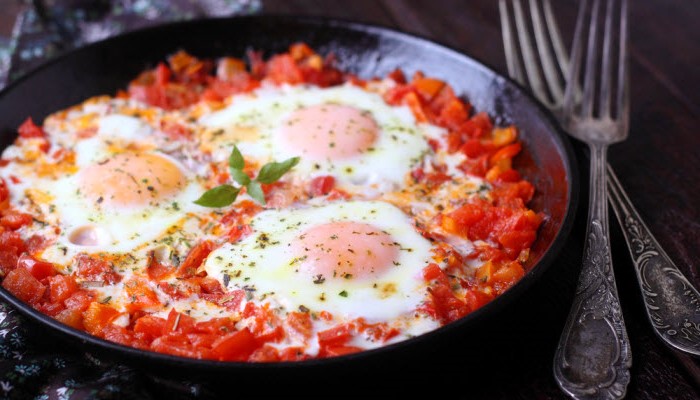 Sweet tomatoes, poached eggs, and delicious herbs and spices are the hallmarks of Shakshouka, a popular Israeli dish that's perfect at any meal.
The Backstory: I first had this deliciously savory egg and tomato dish at my in-laws' home a few years ago when they served it during Sukkot to my family. My husband, children and I sat in their gorgeous Sukkah. This was served out of a cast iron skillet, with crusty artisan bread, delicious salads, fresh fruits and so many other wonderful fall foods. My father-in-law, a-soon-to-be-ordained rabbi, had just returned home to the Boston area after spending several months in Israel, where he and my mother-in-law had been living, while he completed his Rabbinic studies. They told us about many of the wonderful meals they enjoyed in Israel, from the mezze style small plates often served in the Middle East to the beautiful shakshouka my father-in-law set in front of us on that crisp fall day. For me, it was love at first bite. More of the Backstory after the recipe…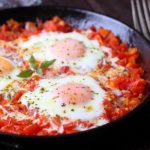 Shakshuka
This traditional Middle Eastern dish is a perfect one-pot meal. Perfectly poached eggs are nestled in a savory tomato sauce that just begs to be mopped up with crusty bread.
Ingredients
2

tbsp.

olive oil

1

medium Vidalia onion, peeled and diced

1

garlic clove, minced

1

green pepper, seeded and diced

1

28 ounce can, San Marzano peeled tomatoes and

crush with your hands

3

tbsp.

tomato paste

1

tsp.

cumin

1

tsp.

paprika

1/2

tsp.

sugar

1/4

tsp.

Kosher salt

1/4

tsp.

freshly ground black pepper

1/8

tsp,

cayenne pepper

4

eggs

fresh parsley
Instructions
In a large skillet over medium heat, heat oil. Saute onions, until translucent. Add garlic and saute for a few more minutes. Do not burn garlic. Add green pepper and cook for another 5 minutes or until the green peppers are softened.

Break the tomatoes up with your hands and add them and their liquid to the pan. Add the tomato paste and stir well until everything is very well combined. Add all of the spices and the sugar and cook on medium, stirring often for another 10 minutes. Do not let the mixture burn.

Taste the sauce to make sure the flavor is as you want. If you want it to be a bit sweeter, add another pinch of sugar. If you want it spicier, carefully add a pinch of cayenne. Likewise if you want a bit more salt, just adjust the spices slowly and carefully.

In a small bowl, crack an egg. Then pour the egg directly into the sauce mixture. Repeat with the remaining eggs and pour them one at a time, into the sauce, spacing them out so they each have enough room to not overlap. Cover the pan and reduce heat to medium-low. Allow eggs to cook and mixture to simmer for 10-15 minutes.

Garnish with fresh parsley and serve with crusty bread.
…The Backstory continues: Since then, I have spent some time researching shakshouka recipes and coming up with different versions to get the sauce just right. I've long been a maker of marina, so I'll admit is has taken a while to break my instinctive habit of reaching for fresh basil whenever a can of plum tomatoes are involved, but I think I've finally gotten the hang of it. The secret it is in the simplicity of spices that are commonly used in shakshouka –cumin and paprika–and striking the right balance between not letting the tomatoes become too sweet with sugar or too salty with too much salt. Sounds easy, right? It only took me five or six (or seven tries!) to get it just right.
Shakshouka is wonderfully versatile and can be adjusted to your taste. If you enjoy your foods a bit on the spicier side, increase the cayenne powder and cumin slightly until you achieve the flavor profile you like. You can also incorporate other vegetables such as mushrooms, carrots or celery. Be creative with this recipe–it will still hold up as shakshouka, but with your own personal touch.
Please follow and like us: